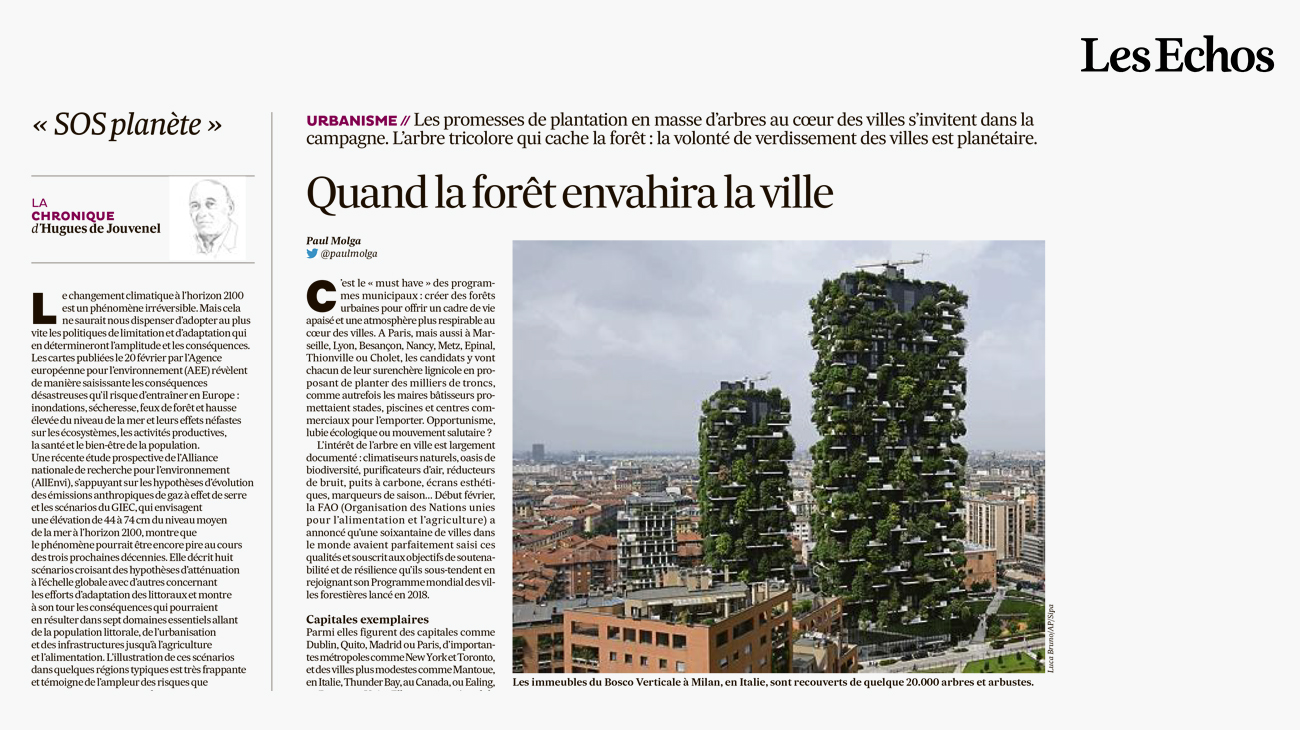 On Les Échos, the main French economic and financial newspaper, an article proposing the entry of nature into the urban dimension, through a widely documented Urban Forestry, describing trees as natural air conditioners, biodiversity oases, purifiers of air, noise reducers, carbon sinks, aesthetic screens and seasonal and well-being indicators. As FAO has announced, some sixty cities around the world have fully understood these qualities and subscribed to the sustainability and resilience goals that underlie adhering to its global Forest Cities Program launched in 2018.
In Europe the ecological movement is well underway, with Milan which – as the most industrialized city on the peninsula – shows itself as a pioneering reality, expressing the will to bring about a radical transformation of its environment thanks to the Urban Forestry project called ForestaMi, which provides the planting of three million trees by 2030, ensuring the decrease of the urban heat island effect with a reduction of temperatures up to 2 degrees and the absorption of up to 5 million tons of CO2 per year.
The architect Stefano Boeri, leader of a movement and spokesperson for an approach that considers trees as equal to human beings, within contemporary urban spaces – as promoted in the Smart Forest City of Cancun – also takes part in the Urban Forestry project and architecture, including the well-known Vertical Forest of Milan, the Trudo Vertical Forest of Eindhoven and the Vertical Forest of Nanjing. In a video published in December 2018, on the eve of the first World Forum on Urban Forest, he invited all urban planning professionals to consider the tree "as a partner of the city of the future", increasing the permeable surfaces, transforming the roofs into gardens, developing green oases and agricultural areas, creating ecological green corridors at different scales, supporting the projects of Foresta Italia and the Great Green Wall of Cities.
To read the entire article, follow the link: https://www.lesechos.fr/idees-debats/sciences-prospective/quand-la-foret-envahira-la-ville-1181151