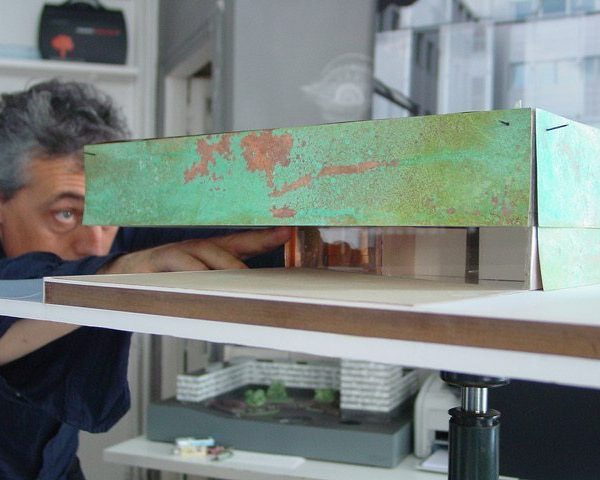 Stefano Boeri, born in 1956, studied architecture at Politecnico in Milan where he graduated in 1980. In 1989 he received his PhD from the Istituto Universitario di Architettura di Venezia (IUAV), in Venice.
He is an architect based in Milan, with his studio Boeri Studio (Stefano Boeri, Gianandrea Barreca, Giovanni La Varra, 1998- 2008) and Stefano Boeri Architetti (since 2008). From 2014 he also leads an office in Shanghai, in partnership with Yibo Xu. Studio is committed to the research and practice of contemporary architecture and urbanism nationally and internationally.
Stefano Boeri has predominantly focused on the design of buildings and open spaces for European urban areas requiring regeneration or redevelopment. He has thus undertaken and carried out a series of projects regarding the transformation and re-use of several waterfronts (Marseille, Doha, Genoa, Naples, Trieste, Thessaloniki, Mytilene, La Maddalena, etc.) and urban interventions (Milan, Rome, Moscow, Beijing, Sao Paulo, Qingdao, Marseille, Astana, Venice, Bolsen and others).
RESEARCH AND ACADEMIC BACKGROUND
Stefano Boeri's design approach is a combination of research and architectural practice. He is a founder of Multiplicity (www.multiplicity.it), an agency for territorial investigation, which detects the physical environment, researching for the clues and traces produced by new social behaviors.
Multiplicity is an ever-changing multidisciplinary network formed by architects, geographers, artists, urban planners, photographers, sociologists, economists, filmmakers, etc. Multiplicity invents and realizes intervention strategies, workshops, installations and books about the processes of transformation of the urban tissue.
Full Professor of Urban Planning at Politecnico in Milan, Boeri has been a guest professor at various universities, including Harvard University's Graduate School of Design (GSD), the Strelka Institute in Moscow and the Berlage Institute in the Netherlands, the Ecole Politecnique Federale de Lausanne.
Boeri has been recently appointed Director of a post-doctoral research program at the Tongji University in Shanghai, where he is developing an international research platform called Future City Lab (FCL), a multidisciplinary lab exploring the future of the cities under the perspective of biodiversity and urban forestation, as an answer to the climate change crisis, with the support of the Italian Politecnico di Milano and of TU Braunschweig in Germany.
He was recently appointed to be part of the Scientific Board of the Galleria Degli Uffizi in Florence, Italy, a palace and Italian classical art museum, along with Davide Gasparotto, Senior Curator of Paintings Department at The J. Paul Getty Museum, and Carl Brandon Strehlke, Curator Emeritus of the Philadelphia Museum of Art.
Currently Boeri is a Director of the web platform theTomorrow (www.thetomorrow.net), which promotes an exchange of ideas on European culture. This platform has managed to create an open network of communication between scholars, politicians, artists and general audience, in order to discuss issues on art, mi- gration, education, and creativity, among the authors there are: Emiliano Battista, Peter Eisenman, Rem Koolhaas, Okwui Enwezor, Camille Henrot, Martin Schulz, Adrian Piper, Tzuchien Tho, as many others, and the project has been present in the Venice Biennial of Architecture (2014) and in the Venice Art Biennial (2015).
In 2012 he curated Sāo Paulo Calling – an international research project, promoted by the Segretaria de Habitaçao of Sāo Paulo, showcasing research projects about informal settlements in Sāo Paulo, Rome, Mumbai, Nairobi, Moscow, Bagdad and Medellin. (www.saopaulocalling.org)
In April 2013 he participated into the international working group "New Narrative for Europe", a project designed to give a voice to the artistic, cultural, scientific and intellectual communities to articulate what Europe stands for today and tomorrow, an event promoted by the European Parliament and by its president Jose Manuel Barroso.
In the period between July 2014 and October 2015 Boeri was a Councelor for Culture and Major Events for the Mayor of Florence Dario Nardella; he was in charge of the Artistic Direction of the "Estate Fiorentina 2014", an urban summer festival with live music, theater performances, and several cultural projects settled by local organizations.
In the period between April 2011 and March 2013 he was appointed Head of Culture, Design and Fashion for the city of Milan, developing projects such as: Piano City Milano and BookCity Milano, which are still taking place once a year; contemporary art exhibitions for internationally renowned artists such as Marina Abramovic's performance of The Abramovic Metod in PAC (Padiglione d'Arte Contemporanea), Alberto Garutti retrospective, and Jeff Wall exhibition entitled "Actuality". All this in addition to the major and classical exhibitions of Picasso at the Palazzo Reale (the most visited exhibition in Italy in the year 2012), the show Bramantino in Milan at the "Castello Sforzesco" and the effort to improve and relocate the exhibition of "La Pieta Rondanini", one of Michelangelo's last sculptures dated back to 1552.
From 2013 he is the artistic Director of MI/ARCH, an International Festival of Architecture promoted by the Politecnico of Milan. Until today it has involved more than 60 speakers ranging between architects, artists, and photographers, among which: Renzo Piano, Rem Koolhaas, Elizabeth Diller, Steven Holl, and many others. He was also the artistic Director of the International Festival of Architecture FESTARCH, which was held in Cagliari (2008 and 2009) and Perugia (2011 and 2012). (www.abitare.it/festarch-2012/)
PUBLICATIONS
Projects of Boeri have been published in various magazines (l'Architecture d'Aujourd'hui, A+U, Casabella, Domus, Archis, Icon, Werk Bauen und Wohnen, Abitare, Lotus International, 2G, ect.), and exhibited in Italy and abroad (Venice Biennale, Milan Triennale, Nederlands Architectuur Instituut, IFA-Institute Français d'Architecture, Arc enrêve centre d'Architecture- Bordeaux, Tokyo Art Front Gallery, Beijing Design week, Chengdu Biennale, etc.). From 2004 to 2007  Stefano Boeri was chief editor of the international magazine Domus, and from September 2007 to 2011 of the international magazine Abitare.
He is the author of a number of books, including: L'Anticittà (Laterza, Rome, 2011/ french translation L'Antiville, Manuella Editions), Biomilano. Glossary of Ideas for a Metropolis Based Around Bio-Diversity (Corraini Edizioni, Mantua, 2011), and Fare di Più con Meno, Il Saggiatore, Milan 2013.
He is also a co-author of such books as: Mutations (with R. Koolhaas, H.U. Obrist, N. Tazi, Actar/ Arc en Rêve, Barcelona/Bordeaux, 2000), USE. Uncertain States of Europe (with Multiplicity Skira, Milan, 2002), Italy: Cross Sections of a Country (with G. Basilico, Scalo, Zurich/Berlin/ New York, 1998), Il territorio che cambia (with A.Lanzani and E.Marini, Segesta, Milan 1993),  Milano. Cronache dell'abitare (with Multiplicity, Bruno Mondadori, Milan, 2007) and La città scritta (Quodlibet Edizioni, 2016).