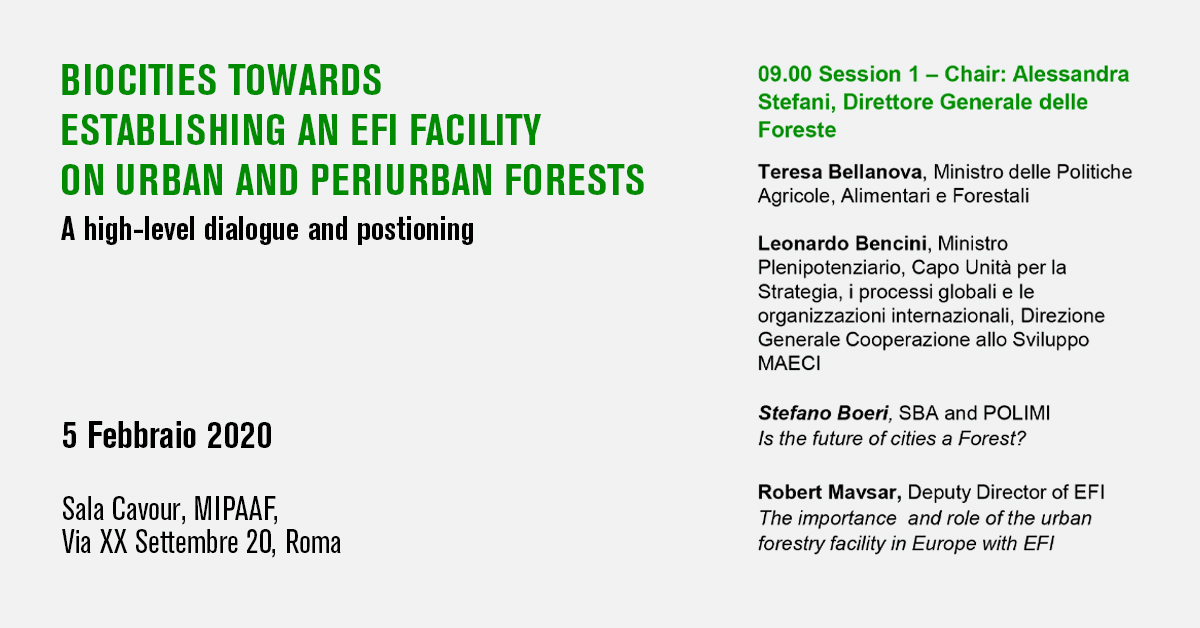 On Wednesday, February the 5th, an important moment of discussion and meeting on the theme of Urban and Periurban Forestry, at the Sala Cavour of Mipaaf, the Ministry of Agricultural, Food and Forestry Policies. The event, organized with the participation of Sisef, the Italian Society of Forestry and Forest Ecology, EFI, the European Forest Institute, the World Forum on Urban Forests and ClearingHouse, sees the presence of numerous leading figures discussing various topics related to relationship between city and nature, scientific research, the future of urban spaces linked to the world of plants and the climatic emergency. During the whole morning, divided into four sessions – opened respectively by Alessandra Stefani, Director General of the Forests, Giuseppe Scarascia Mugnozza, SISEF and Università della Tuscia, Georg Winkel, of EFI, and Marco Marchetti, SISEF and EFI committee – participate:
Teresa Bellanova, Minister of Agriculture, Food, and Forest Policies;
Leonardo Bencini, Minister plenipotentiary, Head of the Unit Strategy, Global Processes and International Organisations, Directorate General Development Cooperation; MAECI – Ministry Foreign Affairs and International Cooperation;
Stefano Boeri, Stefano Boeri Architetti and Politecnico di Milano;
Robert Mavsar, Deputy Director of EFI;
Simone Borelli, FAO;
Clive Davies, EFUF;
Massimiliano Atelli, Committee for the Development of Public Green Spaces;
Carlo Calfapietra, SISEF and CNR;
Rik de Vreese, EFI and Clearing House;
Raffale Lafortezza, UNIBA and Clearing House;
Giovanni Sanesi, SISEF and UNIBA;
Fabio Salbitano, SISEF and University of Florence.
The intervention of the architect Stefano Boeri carries the title "Is the future of cities a Forest?" and has as its fundamental themes the exploration of climate change and the acceleration of land consumption, in search of a new alliance between the forest and the urban space, dotted with research projects for a future that is able to accommodate trees within architecture and spatial planning. The creation of ecological planetary corridors – with the Great Green Wall of Cities – and the design of cities able to arise in harmony with nature and the plant world – such as the Smart Forest City of Cancun – and the forestation of existing cities – through urban plans designed ad hoc as for Tirana2030 and San Marino 2030 garden of Europe microcosm of biodiversity – are among the great challenges carried out by Stefano Boeri Architetti.
For more information, see the link: https://sisef.org/2020/01/20/biocities-towards-establishing-an-efi-facility-on-urban-and-periurban-forests-roma-05-02-2020/