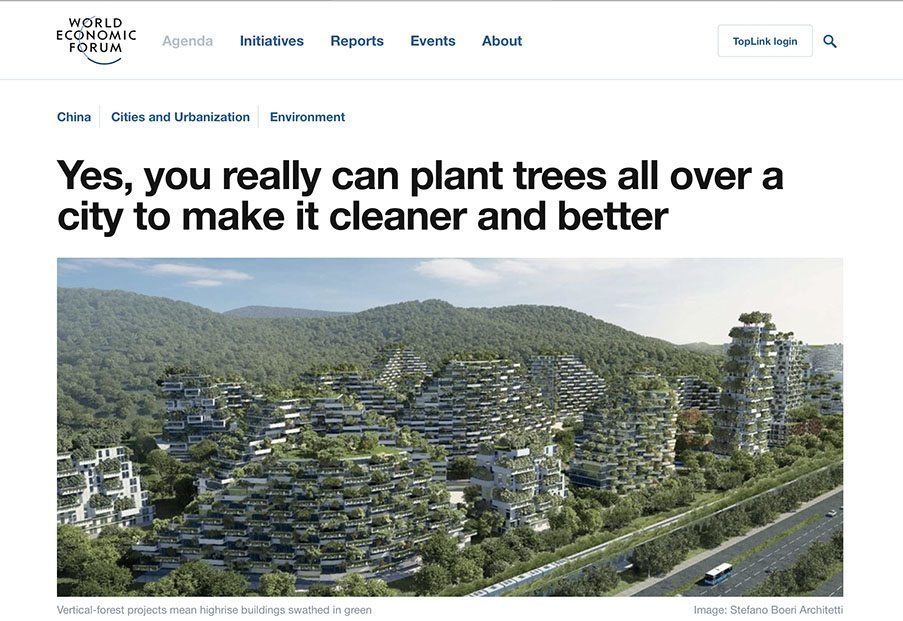 July 4th, 2017
The masterplan Liuzhou Forest city designed by Stefano Boeri Architetti has been featured on the website of World Economic Forum, as an example of Urban Forestry of XXI century.
Charlotte Edmond writes :"The green city follows a string of 'Vertical Forest' projects – highrise buildings swathed in green – being built around the world. But Liuzhou Forest City, set to be completed by 2020, takes things to a whole new level."
Once completed, the new city will host 30,000 people, absorb almost 10,000 tons of CO2 and 57 tons of pollutants per year and produce approximately 900 tons of oxygen.
Liuzhou Forest City will have all the characteristics of an energy self-sufficient urban settlement: geothermal energy for interior air-conditioning and solar panels over the roofs for collecting renewable energy.
Right after the success of Vertical Forest in Milan – which is going to be replicated in many other parts of the world and in China in Nanjing, Shanghai and Shenzhen – with the Liuzhou Forest City project Stefano Boeri Architetti continues its researches for a new generation of architecture and urban environments that faces climate change, proposing new models for the future of our planet.
https://www.weforum.org/agenda/2017/07/welcome-to-china-s-urban-forest/?utm_source=Facebook%20Videos&utm_medium=Facebook%20Videos&utm_campaign=Facebook%20Video%20Blogs