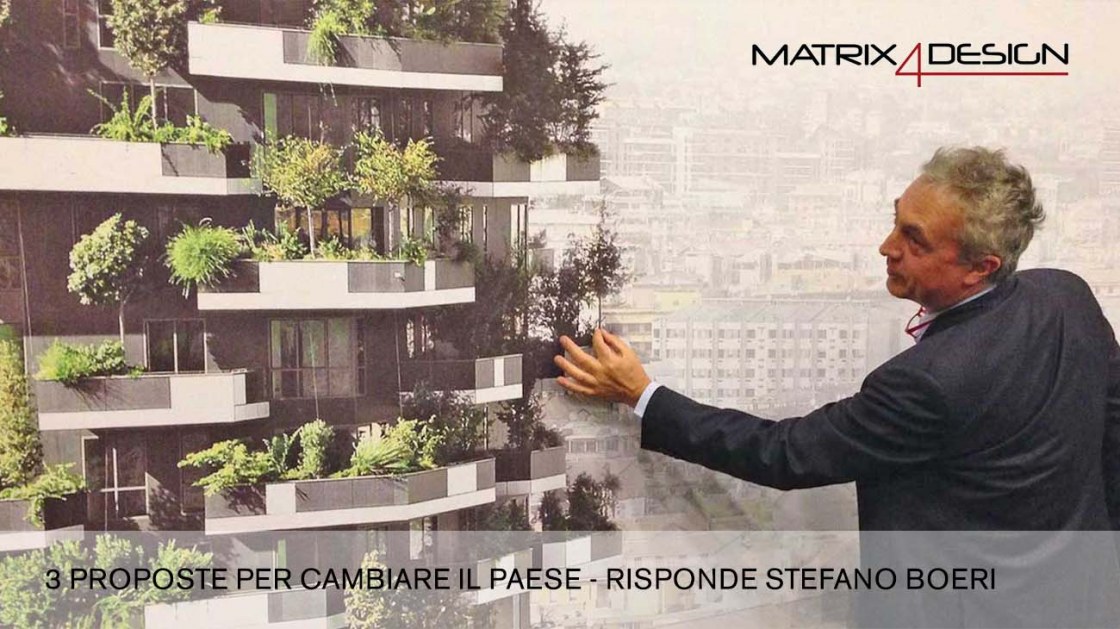 February 19th, 2018
Stefano Boeri speaks to Matrix4design about three proposals that might change the future of our country and of the world. Three revolutionary ideas, supported by the research conducted lately by his studio, Stefano Boeri Architetti. Architecture nowadays is not only a matter of materials, style and space, but also one of the sciences that can and has to contribute to environmental, social and cultural dynamics of this complex historical moment. Projects as space&interiors for the upcoming Design Week become interesting exercises that can transversely involve different kind of professionals and developers: the Future of Livng and the Planet of the Future at the Mall, investigates the forecasting abilities of producers and designers, proposing an immersive atmosphere that will transport visitors on the closest of the far planets, Mars.
He is one of the most famous italian architects in the world, brilliant inventor of the iconic Milanese Vertical Forest and of its international twins, the theorist of a new prototype of a city regenerated through the forestry, a big fan of the cause of the buildings' replacement in Italy, burdened from the post-earthquake reconstruction. […] we spoke about Design Week but also about the city of the future, about challenges to be faced in Italy and in the world. Three revolutionary proposals addressed to the heart of our Country and to the government that will soon lead us.
Among the major challenges, climate change stands out as one of the most allarming. It is necessary to plan an urban regeneration strongly linked to the environmental issue and related to circular economy models, use of renewable energies and Urban Forestry strategies, to be applied on urban and architectural scale.
The relevant migratory flows for geopolitical and climatic reasons, together with the variation of the traditional shape of the household, today with a variable geometry, are pushing us to elaborate new shapes and spaces corresponding to contemporary living. So reinventing social housing to interpret dynamics that today influence the existence on different scales, from the house to the city.
Last, but not the least, the architecture regeneration issue that includes architectural renovation, structural consolidation and substitution of obsolete, degraded and energy-consuming buildings. An architectural project for urban planners and designers, a social and economic project for entrepreneurs and local communities, but also a political project to be scheduled in our agenda.
A substantial effort that should be shared on different levels and that might make the world we are living in much better.
To read the full interview: http://www.matrix4design.com/it/architettura/3-proposte-per-cambiare-il-paese-risponde-stefano-boeri