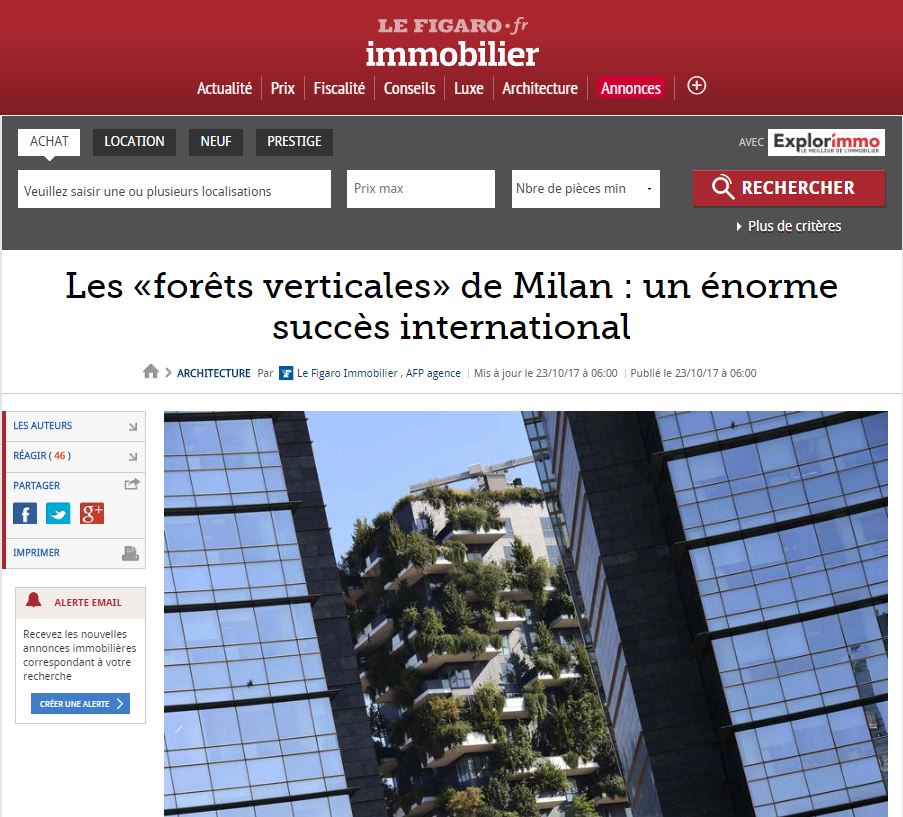 October 25th, 2017
In sight of the White Vertical Forest that will be built in France, Le Figaro tells to its readers the story behind the first prototype of this innovative architecture in Milan. From the inspirations of its author, Stefano Boeri, to the impressions of the first resident of Vertical Forest Simona Pizzi, the article unveils the details of the development of the projects and the peculiar feelings of living, surrounded by the trees in the sky.
"The extraordinary thing we did not expect is the incredible amount of birds that have nested. We have small falcons on the roofs, swifts that had disappeared before from the city of Milan ", rejoices the architect, Stefano Boeri.
"It's a unique thing to live here, we are in direct contact with the plants, all in the city center and in a super modern skyscraper," says Simona Pizzi, who can see the mountains from her apartment from the 14th floor.
Le Figaro also mentions the further development of the idea all around the world and even on the other planet – from Nanjing, where the Green Towers will be complete by the end of 2018 to the Vertical Forest seeds to be planted on Mars in 2117.
http://immobilier.lefigaro.fr/article/les-forets-verticales-de-milan-un-enorme-succes-international_504e0b6a-b27d-11e7-9cde-2ebd52d813ae?utm_campaign=Echobox&utm_medium=Social&utm_source=Facebook