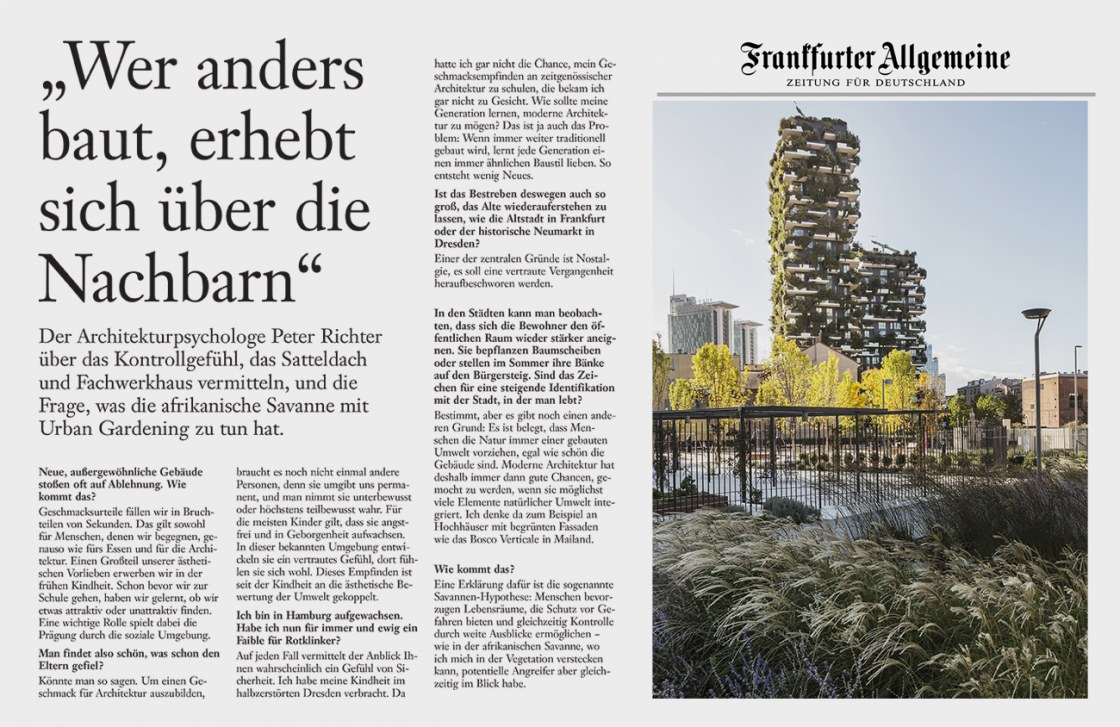 February 5th, 2018
The architecture psychologist Peter Richter reflects on the sense of safety, the saddle roof and half-timbered houses, and tries to answer the question: what the African savannah has to do with Urban gardening. 
"It has been proven that humans always prefer nature to a built environment, no matter how beautiful the buildings are. Modern architecture therefore always has a good chance of being liked if it integrates as many elements of the natural environment as possible. For example, I am thinking of skyscrapers with leafy facades, such as Vertical Forest in Milan".
At the same time, in the cities one can observe that the inhabitants are re-appropriating the public space. They plant trees or place their benches on the sidewalk in summer. Isn't this a sign of increasing identification with the city in which one lives?
Peter Richter explores  the relationship between people and environment, whether it is urban or natural landscape. The psychologist sees a deep connection between the aesthetic preferences of the citizens and their background. He illustrates this thesis with his own experience:
"So you'd rather like what your parents liked and what's similar to the environment you belong to. To develop a taste for architecture, you don't even need other people,  because architecture surrounds you permanently, you perceive it subconsciously. Most children grow up in their native town feeling safe and protected. In this familiar environment, they develop a familiar feeling, where they feel comfortable. This feeling has been linked to the aesthetic assessment of the environment since childhood".

These psychological mechanisms explain why we prefer to live in the historical center rather than in new development areas, why we feel comfortable surrounded by trees rather than just mineral surfaces. Therefore, promoting greenery in the cities has far wider range of effects on the citizens and the urban environment itself.