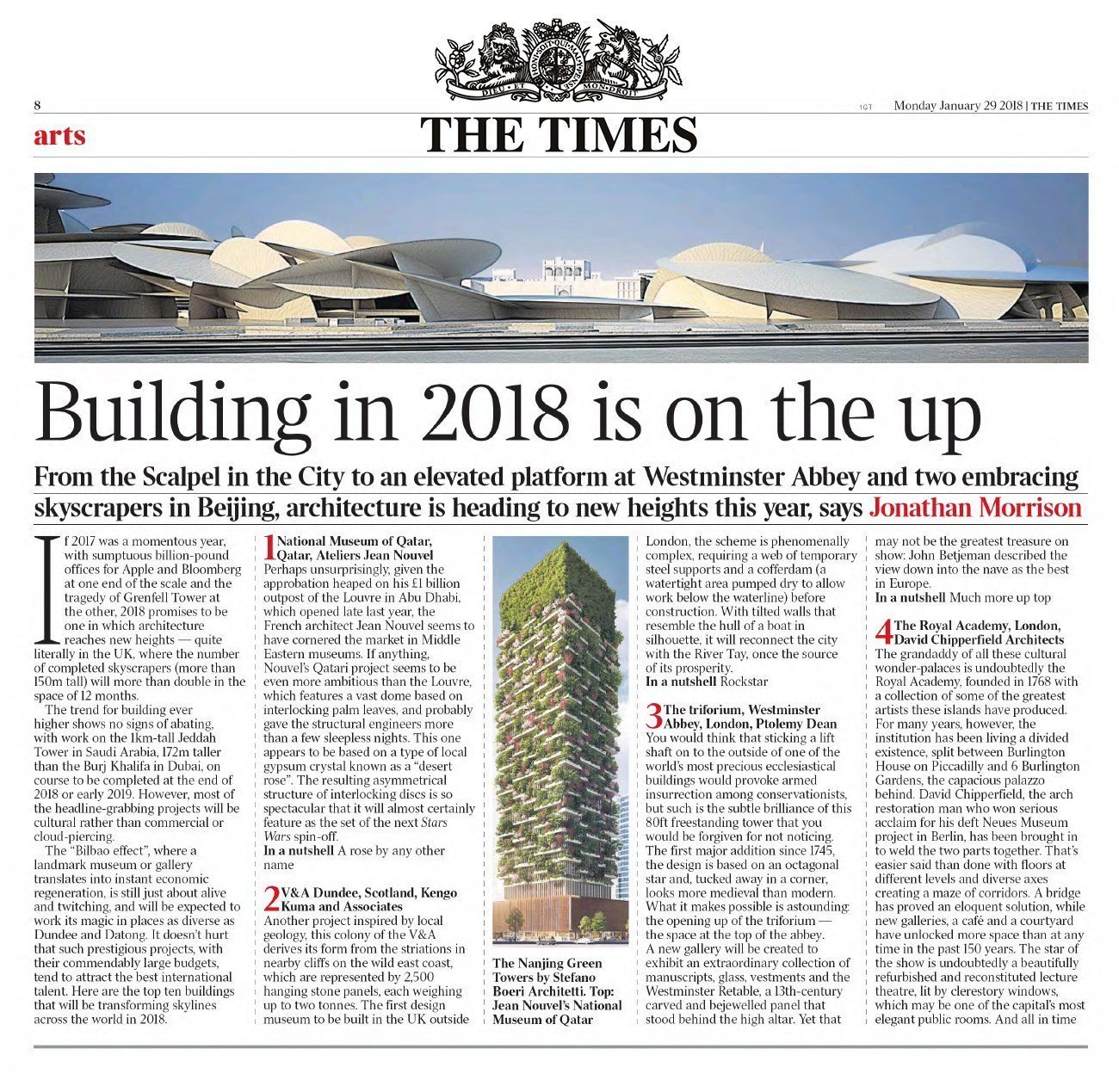 January 29th, 2018
"From the Scalpel in the City to an elevated platform at Westminster Abbey and two embracing skyscrapers in Beijing, architecture is heading to new heights this year", says Jonathan Morrison.
If 2017 was a momentous year, with sumptuous billion-pound offices for Apple and Bloomberg at one end of the scale and the tragedy of Grenfell Tower at the other, 2018 promises to be one in which architecture reaches new heights – quite literally in the UK, where the number of completed skyscrapers (more than 150m tall) will more than double in the space of 12 months.
The trend for building ever higher shows no signs of abating, with work on the 1km-tall Jeddah Tower in Saudi Arabia, 172m taller than the Burj Khalifa in Dubai, on course to be completed at the end of 2018 or early 2019. However, most of the headline-grabbing projects will be cultural rather than commercial or cloud-piercing.
The "Bilbao effect", where a landmark museum or gallery translates into instant economic regeneration, is still just about alive and twitching, and will be expected to work its magic in places as diverse as Dundee and Datong. It doesn' t hurt that such prestigious projects, with their commendably large budgets, tend to attract the best international talent. Here are the top ten buildings that will be transforming skylines across the world in 2018.
1. Nanjing Green Towers, China, Stefano Boeri Architetti
A pioneer of eco-friendly edifices, Stefano Boeri has already built a dramatic tree-clad skyscraper in his home city of Milan and this year intends to roll out the concept to one of the most polluted countries on the planet: China. A vertical forest, the 656ft arboreal tower and its smaller sibling will house office space, a museum, an architecture school (that emphasises planet-affable design), a rooftop club and a hotel, and be covered in cascading greenery intended to suck up and absorb CO2 from the streets below. If that works out, a whole vegetation-blanketed city is on the drawing board.
In a nutshell Branching out
2. National Museum of Qatar, Qatar, Ateliers Jean Nouvel.
Perhaps unsurprisingly, given the approbation heaped on his £1 billion outpost of the Louvre in Abu Dhabi, which opened late last year, the French architect Jean Nouvel seems to have cornered the market in Middle Eastern museums. If anything, Nouvel' s Qatari project seems to be even more ambitious than the Louvre, which features a vast dome based on interlocking palm leaves, and probably gave the structural engineers more than a few sleepless nights. This one appears to be based on a type of local gypsum crystal known as a "desert rose". The resulting asymmetrical structure of interlocking discs is so spectacular that it will almost certainly feature as the set of the next Star Wars spin-off.
In a nutshell A rose by any other name
3. V&A Dundee, Scotland, Kengo Kuma and Associates.
Another project inspired by local geology, this colony of the V&A derives its form from the striations in nearby cliffs on the wild east coast, which are represented by 2,500 hanging stone panels, each weighing up to two tonnes. The first design museum to be built in the UK outside The Nanjing Green Towers by Stefano Boeri Architetti. Top: Jean Nouvel' s National Museum of Qatar London, the scheme is phenomenally complex, requiring a web of temporary steel supports and a cofferdam (a watertight area pumped dry to allow work below the waterline) before construction. With tilted walls that resemble the hull of a boat in silhouette, it will reconnect the city with the River Tay, once the source of its prosperity.
In a nutshell Rockstar
4. The triforium, Westminster Abbey, London, Ptolemy Dean
You would think that sticking a lift shaft on to the outside of one of the world' s most precious ecclesiastical buildings would provoke armed insurrection among conservationists, but such is the subtle brilliance of this 80ft freestanding tower that you would be forgiven for not noticing. The first major addition since 1745, the design is based on an octagonal star and, tucked away in a corner, looks more medieval than modern. What it makes possible is astounding: the opening up of the triforium – the space at the top of the abbey.
A new gallery will be created to exhibit an extraordinary collection of manuscripts, glass, vestments and the Westminster Retable, a 13th-century carved and bejewelled panel that stood behind the high altar. Yet that may not be the greatest treasure on show: John Betjeman described the view down into the nave as the best in Europe.
In a nutshell Much more up top
5. The Royal Academy, London, David Chipperfield Architects
The grandaddy of all these cultural wonder-palaces is undoubtedly the Royal Academy, founded in 1768 with a collection of some of the greatest artists these islands have produced.
For many years, however, the institution has been living a divided existence, split between Burlington House on Piccadilly and 6 Burlington Gardens, the capacious palazzo behind. David Chipperfield, the arch restoration man who won serious acclaim for his deft Neues Museum project in Berlin, has been brought in to weld the two parts together. That' s easier said than done with floors at different levels and diverse axes creating a maze of corridors. A bridge has proved an eloquent solution, while new galleries, a café and a courtyard have unlocked more space than at any time in the past 150 years. The star of the show is undoubtedly a beautifully refurbished and reconstituted lecture theatre, lit by clerestory windows, which may be one of the capital's most elegant public rooms. And all in time for the RA's 250th anniversary.
In a nutshell State of the art
6. Windermere Jetty Museum of Boats, Steam and Stories, Lake District, Carmody Groarke
It may look like a group of sheds on first inspection, but this unassuming ensemble, clad in copper that will weather to green, provides a fittingly industrial backdrop for the internationally significant collection of boats displayed on and off the lake.
There's the usual café and shop, of course, but also a workshop for conservation and restoration. Simple but appropriate, given the stunning surroundings.
In a nutshell Of the first water
7. ARC power plant, Copenhagen, Denmark, Bjarke Ingels Group
Further proof that environmentalism doesn't have to be po-faced, this longanticipated project marries a state-ofthe-art power station with a 500m artificial ski slope, one of the world's longest. Denmark gets plenty of snow, but has relatively few hills, so Bjarke Ingels's genius is to make use of the soaring aluminium structure, which will burn through 400,000 tonnes of waste a year and generate enough energy for 60,000 homes, to provide routes for beginners through to experts in the sport, all while helping Copenhagen to achieve its goal of being carbon-neutral by 2025. There's also a chimney  that blows smoke rings. What's not to like?
In a nutshell Wasting away
8. Leeza SOHO, Beijing, China, Zaha Hadid Architects
It's going to be a big year for ZHA, which continues to defy expectations and bad publicity in the wake of the death of its incomparable founder, Zaha Hadid. The star of its show in 2018 is likely to be the Leeza office building, effectively a pair of skyscrapers locked in a twirling embrace and boasting the world's tallest atrium. Expect to see it gracing myriad magazine covers.
In a nutshell Twist in the tale
9. The Scalpel, City of London, Kohn Pedersen Fox
Given the dross that has been flung up in the City in recent years, more of which is in the pipeline, it's refreshing to be able to praise a more attractive addition to the capital's beleaguered skyline, albeit one 190m tall. Yet unlike, say, the Cheesegrater (aka the Leadenhall Building) or the Walkie-Talkie (20 Fenchurch Street) near by, the Scalpel — its official name — wears its altitude lightly and leans back from the all-important views of St Paul's. One might even describe it as sensitive were it not that, seen in conjunction with the Cheesegrater from the east, the City appears to be sticking two fingers up to Canary Wharf, its nearest rival.
In a nutshell Sharper than the rest
10. Goldsmith Street, Norwich, UMikhail Riches
Given what happened at Grenfell we must include an example of good, homegrown social housing — the antithesis of all the poor-quality blocks that were erected in the 1960s and 1970s and which are again going up in their hundreds across our cities. Goldsmith Street is a new take on the traditional terrace, incorporating the highest environmental standards, drastically increasing energy efficiency by use of careful design and selection of materials. It combines this with shared communal space and a careful mix of light-filled flats and houses. Let's hope it becomes the model for many more such developments.
In a nutshell Down-to-earth goodness