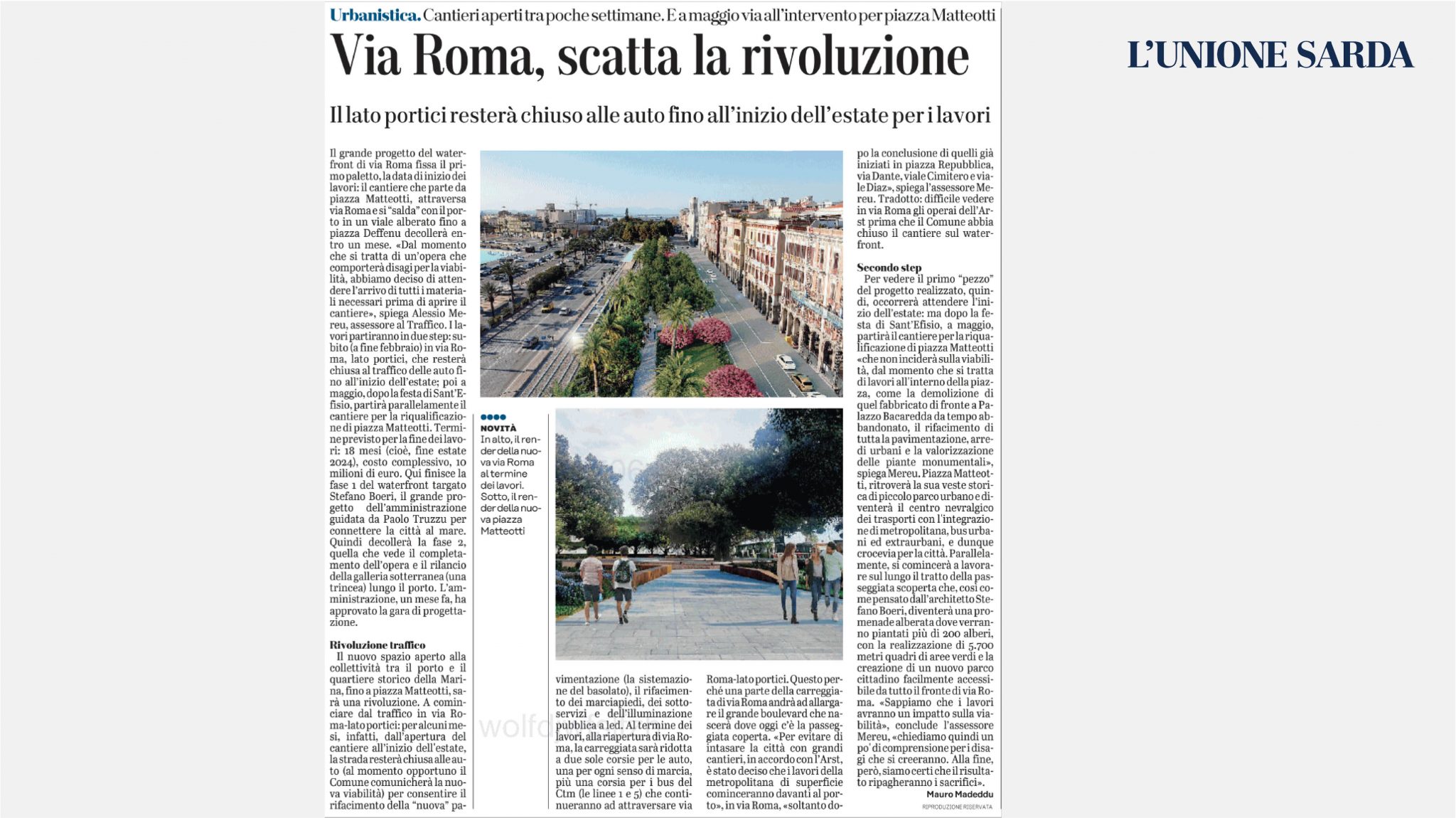 At the end of February, the building site for the project A Green Promenade for Cagliari's waterfront will begin, conceived by Stefano Boeri Architetti and MATE Società Cooperativa (group leader) with StudioSilva, S.T.P. , MIC-HUB and the archaeologist Demis Massimiliano Murgia.
The project, which was presented to the citizens on the 19th of July 2022, aims to renovate Cagliari's seafront, with the redevelopment of Piazza Matteotti and the central strip of Via Roma, to enhance the city's historical relationship with the sea.
In the national daily L'Unione Sarda, Mauro Madeddu dedicates an article to the project's implementation phases: the work site on Via Roma (portico side) will start at the end of February and will continue until the beginning of the summer; in May, the building site for the redevelopment of Piazza Matteotti will start in parallel.
Specifically, the project involves the paving, the construction of new pavements and new LED lighting, and a covered promenade that will become a large tree-lined boulevard, as well as a new road system and the revitalisation of the underground tunnel along the port.
To read the full article: https://www.unionesarda.it/news-sardegna/cagliari/cagliari-entro-un-mese-via-al-cantiere-che-avvicinera-la-citta-al-mare-xdnzhsm2
The project was also presented at Hub Green Ports.
The news was also broadcasted by TGR Sardegna: https://www.stefanoboeriarchitetti.net/wp-content/uploads/2023/02/4lTJKjYRFwmTfl9D0uhWV7nrsE0d1DBQKKAK0IytsO8.mp4; https://www.stefanoboeriarchitetti.net/wp-content/uploads/2023/02/jBSCFVTxEnt2d5oDr5FoIvBRwXgzKPr1hHC7a4j_t90.mp4