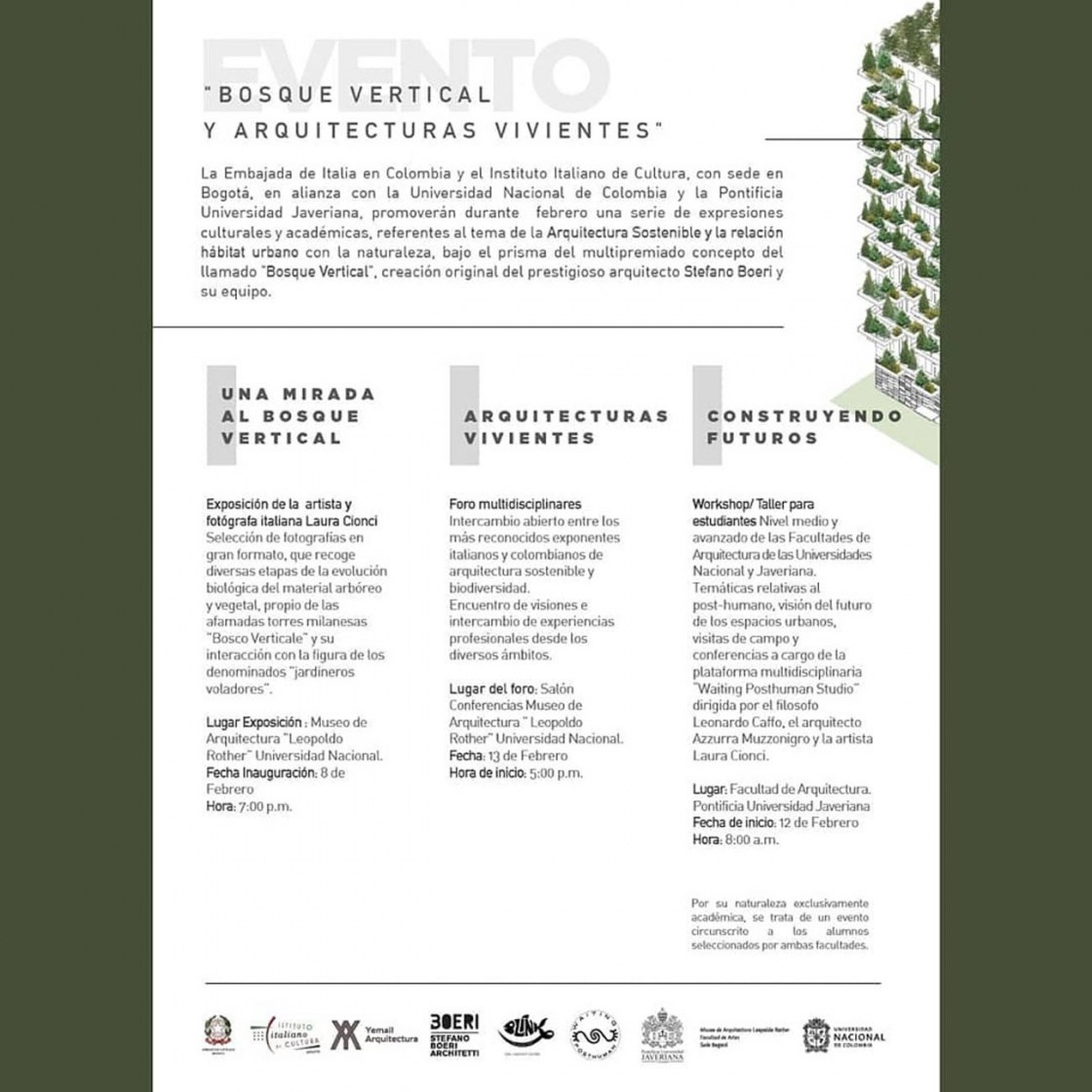 On Tuesday, February 13th will be held in Bogotà the multidisciplinary forum "Living Architecture", an open meeting with the most recognized Italian and Colombian exponents of sustainable architecture and biodiversity, to share visions and professional experiences.
Architect Azzurra Muzzonigro from Stefano Boeri Architetti studio will take part in the forum at the Conference Hall of Leopoldo Rother Museum of Architecture.
The event will start at 5.00 pm local time.
The Forum is part of the events series promoted on February by the Italian Embassy in Colombia and the Italian Cultural Institute, based in Bogota, in collaboration with the Universidad Nacional de Colombia and the Pontifical Universidad Javeriana. The theme of Sustainable Architecture is investigated through various cultural and academic expressions, starting from the concept of the award-winning Vertical Forest designed by Stefano Boeri.
The program consists also in a photographic exhibition and in a workshop/laboratory:
"Una Mirada al Bosque Vertical"
Exhibition by the photographer Laura Cionci. Selection of large format photographs positioned inside an environmental installation that recalls the structure and the different stages of the biological evolution of the tree and plant material of the famous Milanese towers of Vertical Forest and their interaction with the figure of the so-called "flying gardeners".With videos by The Blink Fish and Stefano Boeri Architetti.
Exposition Site: "Leopoldo Rother" Museum of Architecture Universidad Nacional.
Opening date: February 8th, 2018
Time: 19:00
"Building Future"
Workshop/Laboratory for students of the Faculties of Architecture of the National University of Colombia and the Pontifical Xavierian University.
Themes connected to the posthuman, visions on the future of urban spaces, field visits and conferences organized by the multidisciplinary platform Waiting Posthuman Studio, Leonardo Caffo, Azzurra Muzzonigro and Laura Cionci.
Site: Faculty of Architecture, Pontifical Universidad Javeriana
Start date: 12 February
Time: 8:00 am