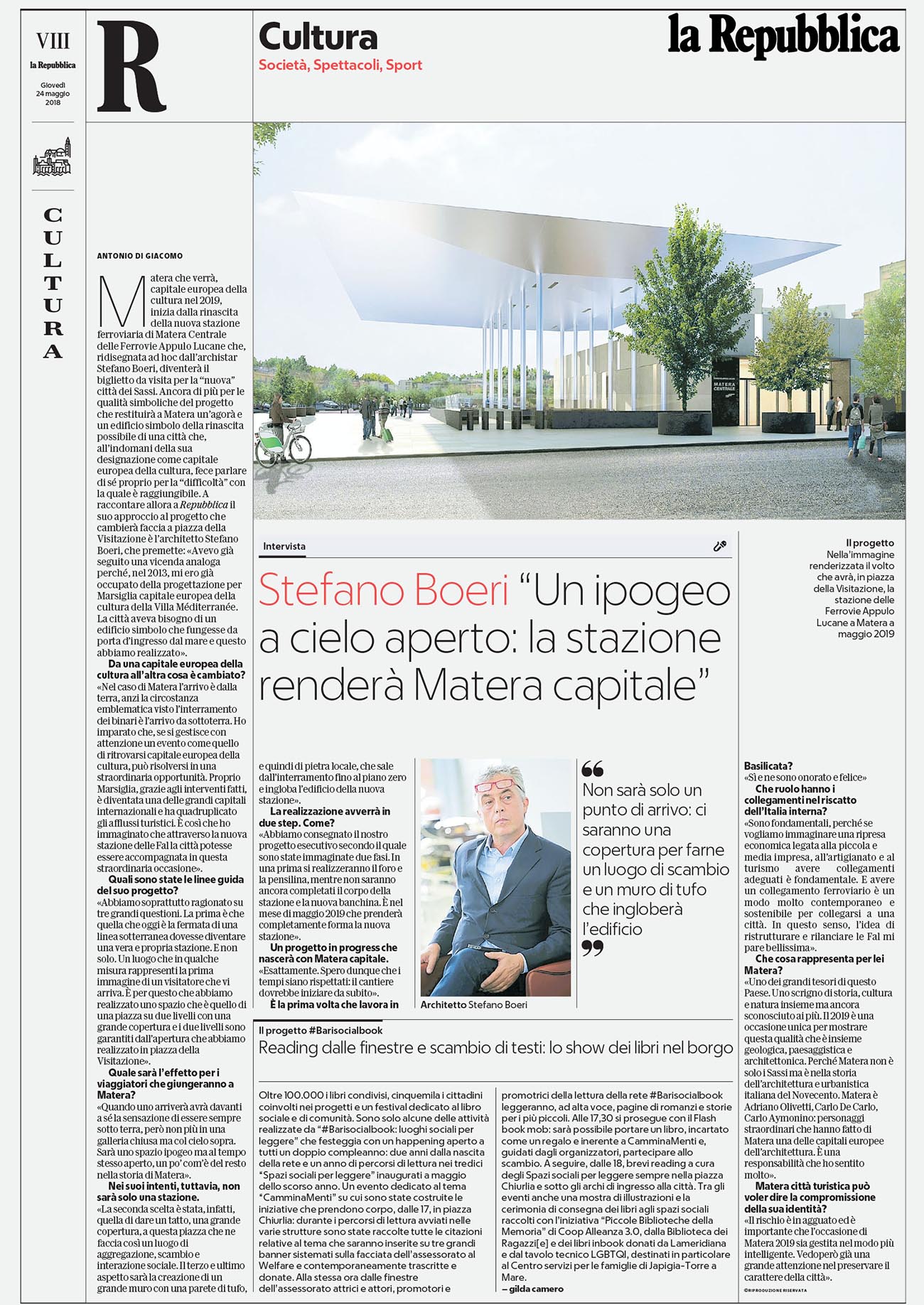 The 2019 european Capital of Culture will have a new access door from the world. The new station Matera Centrale of Ferrovie Appulo Lucane proposes a symbolic building – with a recognizable roof and an open-air hypogeum space – which connects directly the Città dei Sassi with the closest airports and so with the world.
Stefano Boeri already designed an iconic building for 2013 Marseille Capital of Culture: for the Ville Mediterranée it was intended to realize an access from the sea, for Matera 2019 an access from the land. In the project it was fundamental giving dignity to the hypogeum space of the arrival, for this reason the double height is a prelude to the access to the city.
As stated in the interview to La Repubblica it was wanted not just to create an arrival place but also a space of social interaction through the wide metallic roof which protects the double height in contrast with the big wall that will be built in tuff, the local stone. So materials in contrast for this project: the innovative ones of the roof abd the local tuff for the big wall.
The hole and the roof will be ready for 2019 to welcome all the visitors who are coming for this important year and in a second phase Stefano Boeri Architetti foresee to finish the project building the volume of the station and the new platform to consolidate the role of Matera as culutral and accessible city.
For Stefano Boeri Matera is «one of the great treasure of this country. A trunk of history, culture and nature still unknown to the most. 2019 is an unique occasion to show this quality which is together geology, landscape and architecture. Because Matera is not just the Sassi but is also architecture and urban history of the Twentieth Century. Matera is Adriano Olivetti, Carlo De Carlo, Carlo Aymonino: extraordinary characters which made Matera one of the architecture european capitals».