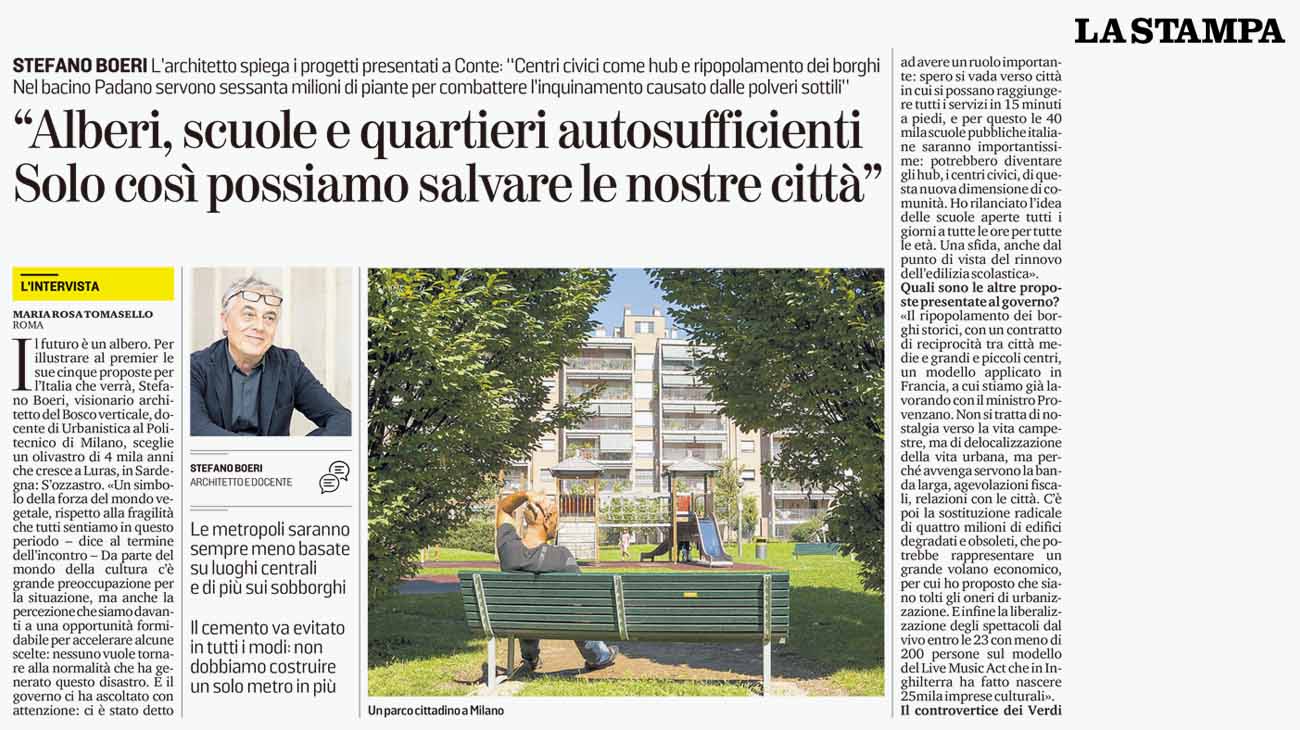 On La Stampa Stefano Boeri's participation in the States General of the Economy, in an article that explains the projects presented to the Premier Conte: "Civic centers as hub and repopulation of villages, together with sixty million plants to combat pollution caused by fine powders. Trees, schools and self-sufficient neighborhoods to save cities". Five tangible proposals for the coming Italy, between metropolises less and less based on central places and more and more on the suburbs and a strong statement against soil consumption and the land being concreted over.
Transforming Invitalia into an environment agency that has urban forestry as its project mission; promote a framework law to transform schools into the hub of neighborhood services; experiment reciprocity contracts between historic towns and villages in the internal areas; include in the architecture law a national project for the replacement of 4 million obsolete buildings; promote a framework of rules on live entertainment, modeled on the English Live Music Act.
Insights that Stefano Boeri chooses to illustrate starting from the image of a 4,000-year-old olive tree that grows in Luras, Sardinia: "A symbol of the strength of the plant world, compared to the fragility that we all feel in this period. From the world of culture there is great concern for the situation, but also the perception that we are facing a formidable opportunity to accelerate some choices: nobody wants to return to the normalcy that generated this disaster".
To read the entire article, consult today's press 22 June 2020 or the link:
https://www.lastampa.it/topnews/primo-piano/2020/06/22/news/boeri-alberi-scuole-e-quartieri-autosufficienti-solo-cosi-possiamo-salvare-le-nostre-citta-1.38994620