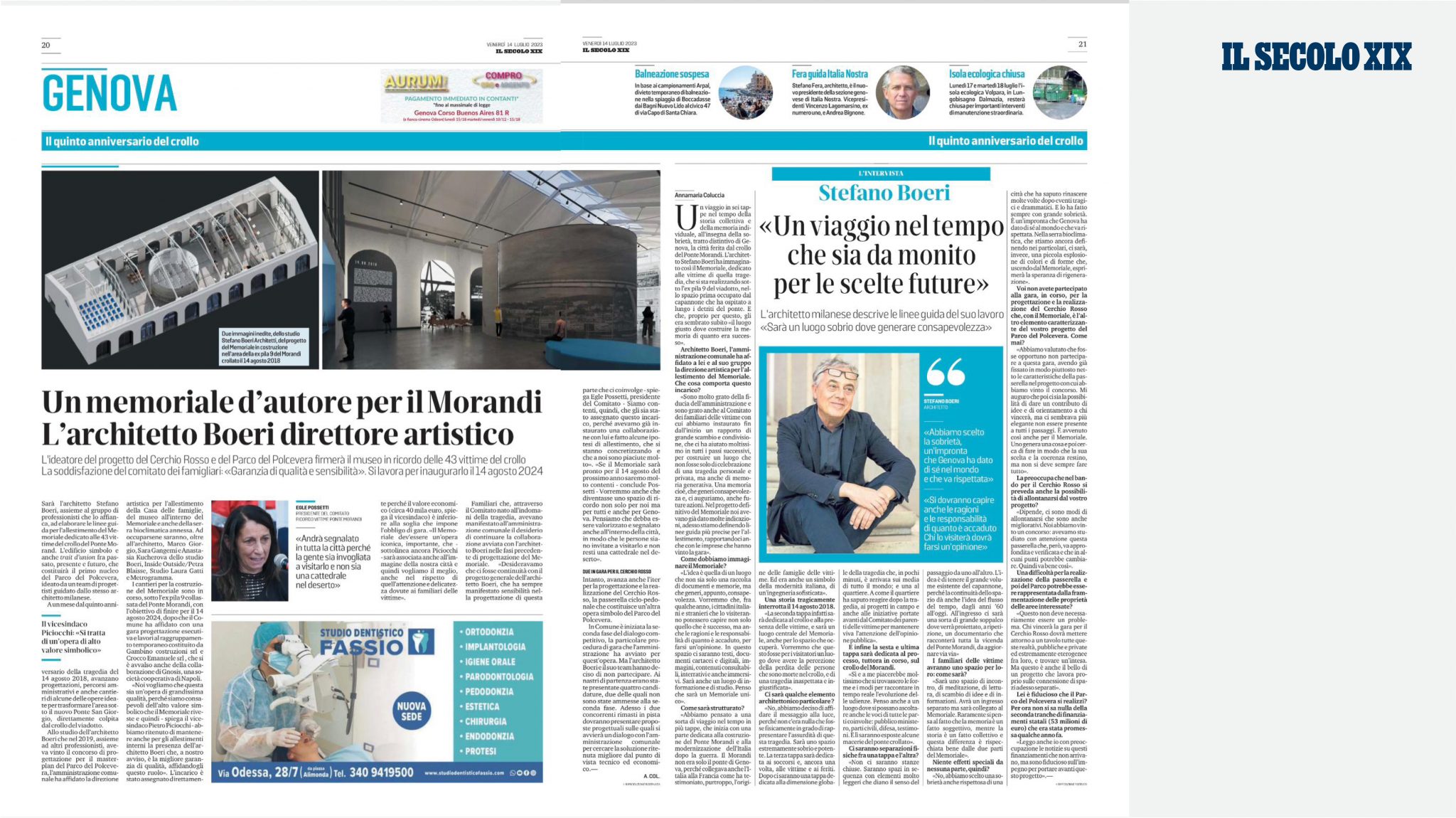 Il Secolo XIX dedicates an article to Stefano Boeri Architetti's project for the exhibition design of the Memorial dedicated to the 43 victims of the Morandi Bridge collapse.
The building, designed by Stefano Boeri Architetti's team (project group: Marco Giorgio, Sara Gangemi, Anastasia Kucherova and Daniele Barillari) constitutes the first nucleus of the project for the Polcevera Park, developed in collaboration with Metrogramma, Inside Outside and Studio Laura Gatti.
The Memorial is conceived as a six-stage journey through the time of collective history and individual memory. Starting with the construction of the bridge in the context of the Italian post-war period, passing through the collapse – recounted in the central space of the Memorial – up to the rescues, the victims and, finally, to the dimension of the neighbourhood and the criminal proceedings, still in progress, the Memorial collects and exhibits documents, memories and traces of the event to generate awareness of a tragedy that cannot be forgotten or repeated.
"The idea is that of a place that is not just a collection of documents and memories, but that generates awareness. We would like that, in a few years' time, Italian and foreign citizens who visit it can understand not only what happened, but also the reasons and responsibilities for what happened, in order to form an opinion. In this space there will be texts, paper and digital documents, images, searchable, interactive and even immersive content. It will also be a place of information and study," says Stefano Boeri.
To read the full article: https://www.ilsecoloxix.it/genova/2023/07/14/news/morandi_boeri_memoriale_vittime-12940506/
The news was also reported by Repubblica on the fifth anniversary of the bridge collapse.