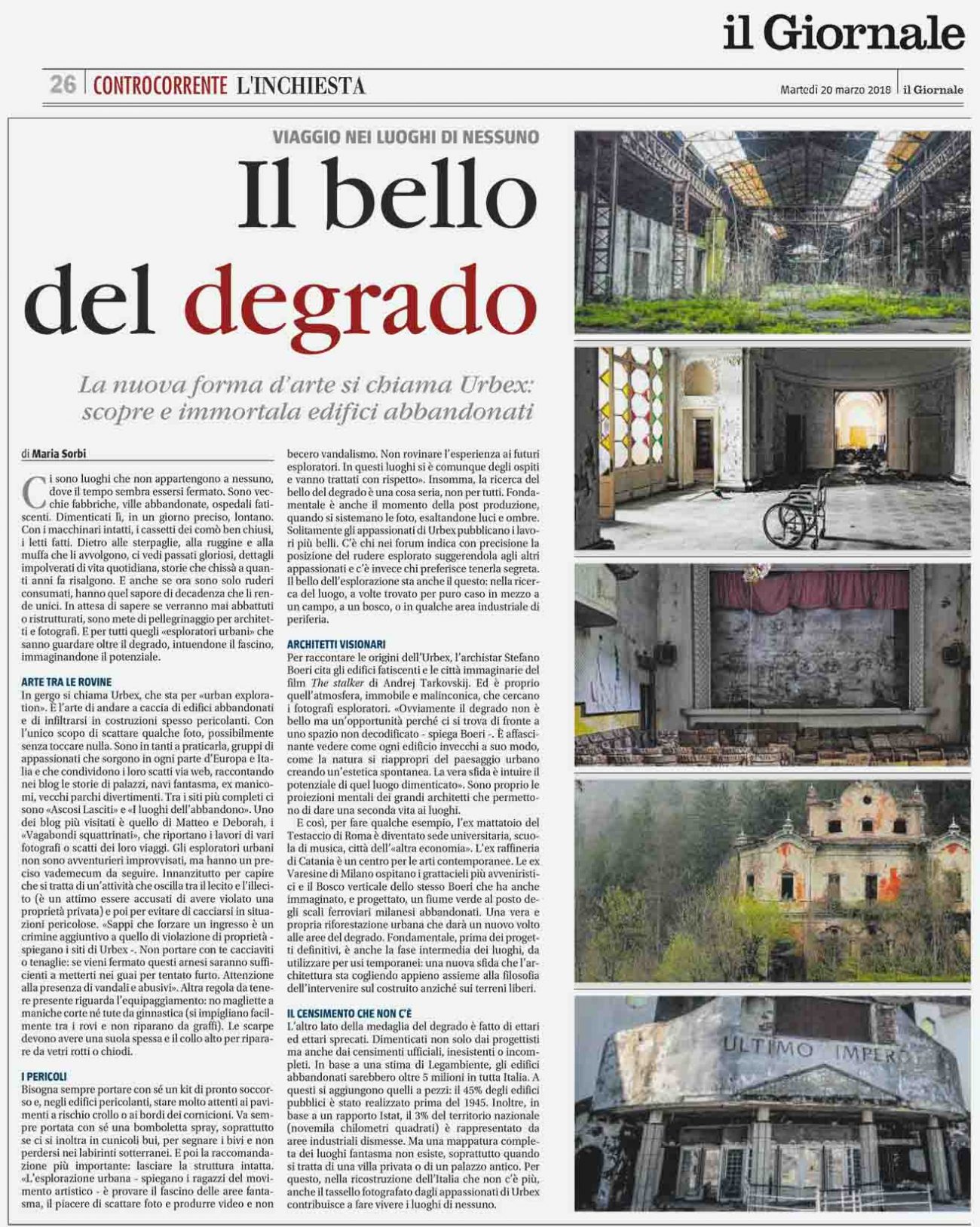 An article by Il Giornale portrays the phenomena of decay which sometimes distinguishes the territory and built heritage, citing Stefano Boeri as one of the visionary architect with a certain expertise in the field. Abandoned and degraded places, forgotten by designers but also by official censuses, that, in the last decade, became object of studies, mapping, evocative photographic documentaries and ambitious projects. Urbex, from urban exploration, became a widely spread phenomena invoving young and professionals, fascinated by these places, looking for the beauty in the decay.
The architect Boeri mentions the static and nostalgic atmospheres of the movie The stalker by Andrej Tarkovskij to evoke the interest that many people take in contemporary landscapes, which stay in the opportunity of interpreting the space and imagining its past and its future.
"Obviously the decay is an opportunity rather than a beauty because you have to face a non decoded space – Boeri explains – It is fascinating to see how each building ages in its own way, how nature repossess the urban landscape creating spontaneous aesthetics. The real challenge is to foresee the potential of those abandoned places".
And the role of the projections of the big architects is to give a second life to such places. The good examples are the reconversion projects, such as the Rome former slaughterhouse that today hosts a university and a museum, or Catania former refinery that today is an art center, but also the Milanese former Varesine that today hosts the most innovative projects of the whole city, including the Vertical Forest – key building of a wider crusade, the Urban Forestry global campaign- or A Green River for Milan, a project that reinvents the Milanese abandoned railway terminals.