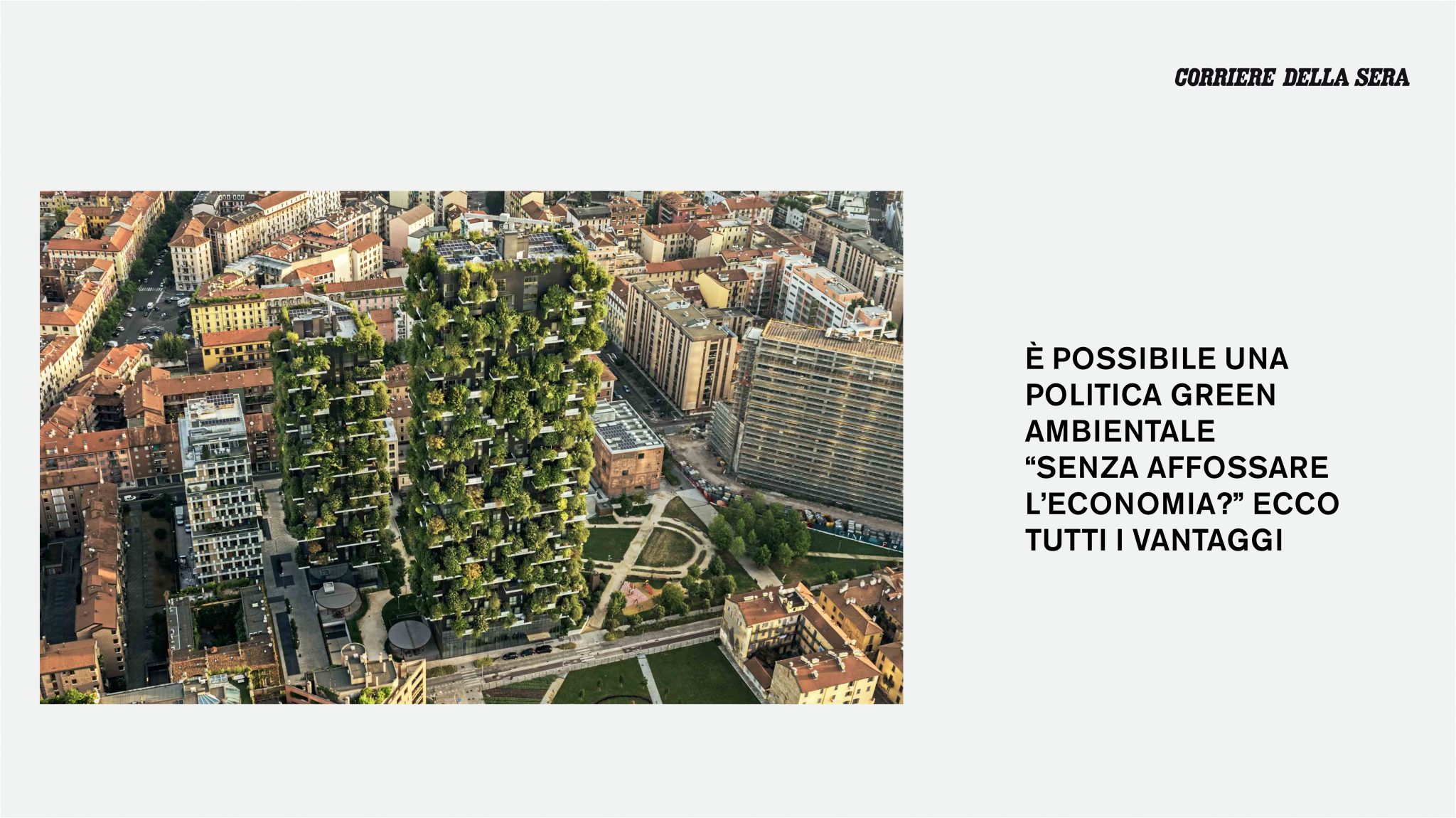 Inside Corriere della Sera, in the section dedicated to the city of Milan, an article by Sergio Harari on the ecological transition and ways to adopt green environmental policies without stifling the economy, mentioning the Bosco Verticale in Milan, a project by Boeri Studio.
The article focuses on policies and possible solutions to integrate trees and sustainable solutions into the urban environment, especially with regard to the city of Milan.
Great strides have been made in the city, reducing vehicular traffic and promoting alternative mobility, encouraging urban reforestation initiatives and developing a new generation of sustainable buildings, among which the Bosco Verticale is cited as a symbolic example.
Located in the Porta Nuova district, the Bosco Verticale is composed of two towers, 80 and 112 m high, housing a total of 800 trees (480 first and second size trees, 300 smaller ones, 15,000 perennials and/or ground cover plants and 5,000 shrubs. A vegetation equivalent to that of 30,000 square metres of forest and undergrowth, concentrated on 3,000 square metres of urban area.
Rather than an architectural object tout-court, therefore, the presence of the vegetal component makes the Bosco Verticale assimilable to a set of processes – partly natural, partly managed by man – that accompany the life and growth of the inhabited organism over time. The combination of these solutions overcomes the still substantially anthropocentric and technicist concept of "sustainability" in the direction of a new biological diversity.
To read the full article: https://milano.corriere.it/notizie/cronaca/23_settembre_13/e-possibile-una-politica-green-ambientale-senza-affossare-l-economia-ecco-tutti-i-vantaggi-ea44a1c6-3ca2-41ce-a6ec-9150da4cdxlk.shtml