venice biennial 2018
stefano boeri architetti presents slow food freespace, the pilot project of slow village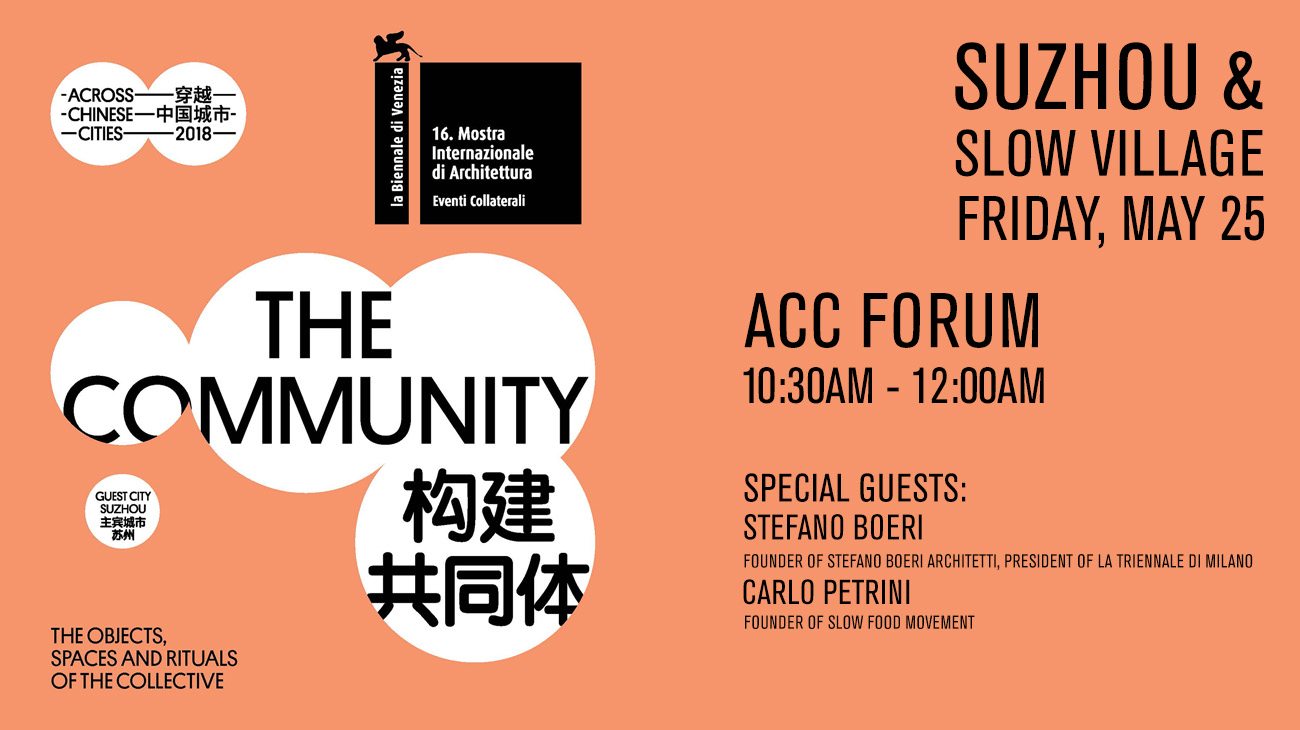 For the 16th Venice Biennial, Stefano Boeri Architetti presents Slow Food Freespace: the pilot project for the first Slow Village to be constructed in China in collaboration with Slow Food Movement. The speakers at the May 25th "Across Chinese Cities – The Community" event at Ca' Tron will be Stefano Boeri and Carlo Petrini, founders of the two entities, Stefano Boeri Architetti and Slow Food.
Starting from the wide vision of Slow Food China – supporting an agricultural economy that values the culture and local products – Stefano Boeri Architetti has designed a school, a library and a small museum for each village (or group of close villages) involved in the Slow Village program. Three cultural epicenters able to build the hubs of a wider infrastructure that can allow millions of Chinese farmers to invest in the future of their rural territories, rather than abandoning them to move to metropolitan suburbs. Offering the best cultural, economic, architectural and environmental conditions to a dusty galaxy of local communities, the Slow Food Freespace program aims to forcefully combat the emigration towards large Chinese cities that has grown in the latest years, and the consequent homologation of the specific cultural characteristics linked to the richness of the territory.
Times and locations of the presentation of Slow Food Freespace, in Venice on May 25th, 2018, are not accidental. On the one hand, the project is illustrated for the first time to the public in the context of "Across Chinese Cities – The Community", programming initiative that aims to explore forms of design linked to the development of new systems of social, economic and spatial belonging. On the other hand, and in the larger sense, the program introduced by Stefano Boeri Architetti can be conceptually linked to the theme of the Venice Biennial of Architecture (whose inauguration is scheduled for May 24th and 25th) and has been named "Freespace" by curators Yvonne Farrell and Shelley McNamara. With that definition, the founders of the Irish studio, Grafton Architects, intended to identify a democratic, unprogrammed and free-use space, able to emphasize the gifts of nature – the light of the sun and moon, the air, gravity, materials – and to offer everyone an additional and unexpected generosity in every aspect. An architecture, in other terms, with its own life, able to embody even the most unexpressed desires and to build sensorial, linguistic and emotional bridges, providing the well-being and dignity of each citizen. A great revolution for the "fragile planet", that can also start from a small village in the Chinese countryside.
SEEDS OF CULTURE 
Slow Village pilot project
Location: Anrenqiyan Village, Chengdu, Sichuan ProvinceYear: 2018

Credits:

Stefano Boeri Architetti (China)

Partners:

Stefano Boeri

Yibo Xu

Project Director:

Pietro Chiodi

Project Architect:

Claudia Scaglioni

Moataz Faisal Farid

Design Team: Huang Zhiyang

Jiang Linhong

Krista Skujina

Graphic Content:

Cecilia Picello

PR and Communication:

Dong Li

Gong Ting

Xie Ying

Collaborators

Rendering: Lifang

Maquette: Sebastiano Conti Gallenti