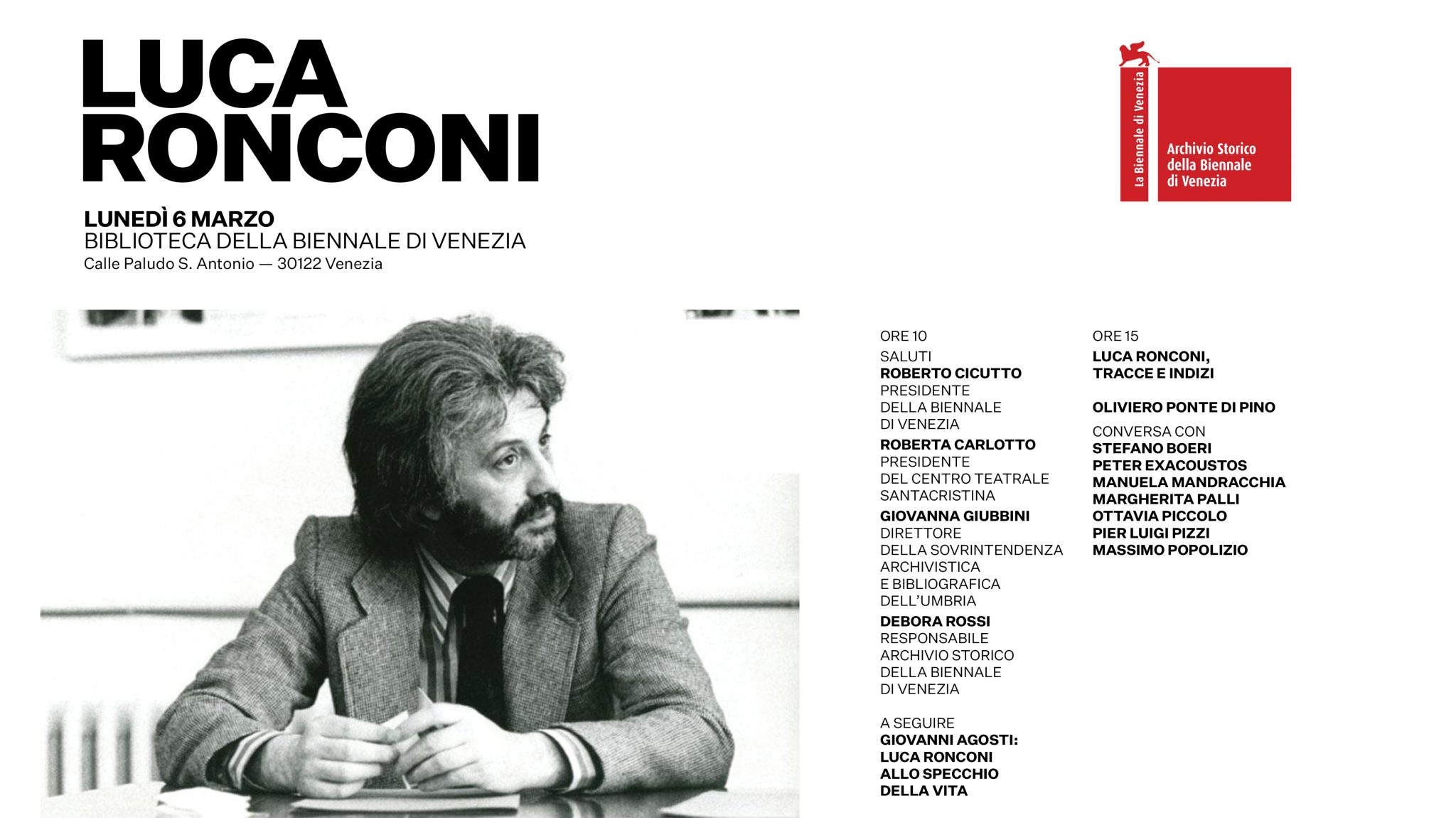 On Monday March 6th, the Sala Auditorium of the Library of the Venice Biennale will host, starting at 10.00 a.m., the Study Day event dedicated to Luca Ronconi, an appointment that remembers the actor and director with speeches and dialogues between various figures of Italian culture, including Stefano Boeri.
The event opens with the greetings of Roberto Cicutto, President of the Venice Biennale and the speeches of Roberta Carlotto, President of the Centro Teatrale Santacristina, Giovanna Giubbini, Director of the Sovrintendenza Archivistica e Bibliografica dell'Umbria and Debora Rossi, Head of the Historical Archive of the Venice Biennale.
Following Giovanni Agosti will present the appointment Luca Ronconi allo specchio della vita, followed by Luca Ronconi, tracce e indizi in which Oliviero Ponte di Pino will converse with Stefano Boeri, Peter Exacoustos, Manuela Mandracchia, Margherita Palli, Ottavia Piccolo, Pier Luigi Pizzi, Massimo Popolizio.
With the collaboration of the Ronconi Archive and the Santacristina Theatre Centre, two days are dedicated to the work of Luca Ronconi and to the years of the Venice Biennale, where he was director of the Theatre and Music sectors from 1974 to 1976, and was awarded the Golden Lion for Lifetime Achievement in 2012. This initiative is the first in a series of periodic appointments organised by the Biennale's Historical Archives within the framework of the International Centre for Contemporary Arts Research, aimed at presenting the results of research, informing on new acquisitions, and presenting books and archival exhibitions. The next meeting, to be held on 30 and 31 March, will focus on the Biennale of Carlo Ripa di Meana, on the occasion of the acquisition of the archive of the photographer Lorenzo Capellini.
For further information: https://www.labiennale.org/it/agenda/giornata-di-studi-dedicata-luca-ronconi
For the streaming: https://www.youtube.com/watch?v=u8zoYsf-YYI