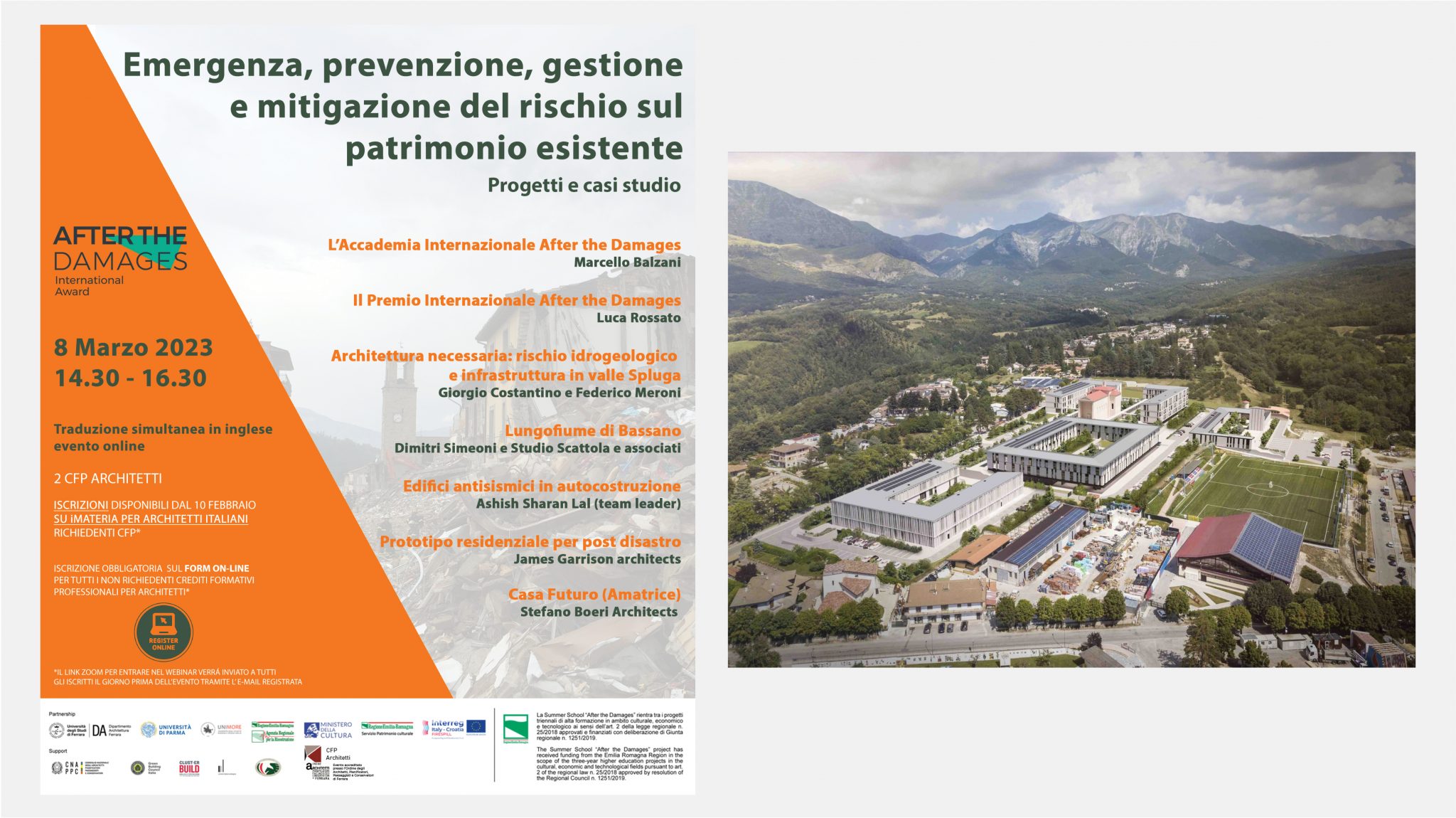 On Wednesday 8 March, the award ceremony of the second edition of the After the Damages International Award is held online. The award aims to disseminate projects, strategies and realisations in the field of architecture and engineering that have been able to interpret the complex theme of emergency, prevention, management and mitigation of risk.
Stefano Boeri Architetti participates in the event by presenting the winning project in 2022 Casa Futuro. The project envisages the reconstruction of the Don Minozzi Complex in Amatrice, a historical place of great importance for the city and the whole territory, hit by the 2016 earthquake. The intervention is inspired by the pivotal concept of Integral Ecology expressed in Pope Francis' Encyclical and the dialogue with the pre-existing architecture, designed by Arnaldo Foschini in the 1920s to house war orphans.
The use of earthquake-resistant construction typologies, the re-use of excavated soil, the timely management of rainwater and the presence of 930 photovoltaic panels integrated in the roof, as well as the recovery of the former farmhouse and the adjacent silo – preserved with their original functions as elements of the area's memory – contribute to significantly reducing the project's environmental impact.
On the whole, the project is not limited to the definition of a new urban planning resulting from the set of interventions envisaged, but aims to solicit a reflection on the renewed strategic arrangement, in terms of new uses, endowment of equipment and services, and future management of the complex, reflecting on the relative role that the area can once again assume.
For more information and to follow the award ceremony: https://www.afterthedamages.com/
For registration: https://docs.google.com/forms/d/e/1FAIpQLSeslW6LNN1a-ZzRB1_QWJVFZQm03jNhu6EboYWJtDfEHtxHzA/viewform