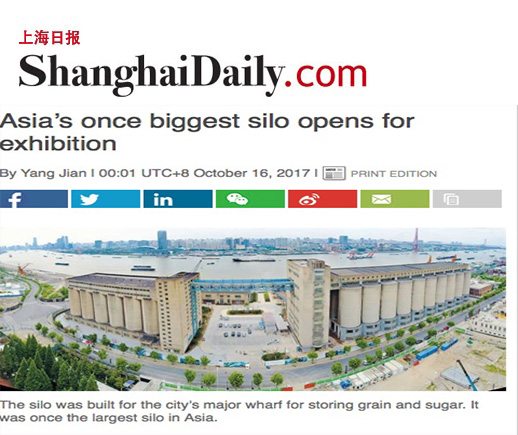 October 16th, 2017
Susas 2017 (Shanghai Urban Space and Art Season 2017), the most important international exhibition in Shanghai of urban design, architecture and public art, whose chief curator is Stefano Boeri, inaugurated yesterday, October 15th, in the biggest grain silo in Asia.
The Shanghai Daily, the main English-language newspaper of living in Shanghai, reported about a great flow of visitors at the opening: "About 3,000 people braved the rain on the opening day to the 48-meter-tall silo with total storage of 80,000 tons at Minsheng Wharf along Huangpu River. Under the theme 'thisCONNECTION – Sharing a Future Public Space', the three-month Shanghai Urban Space Art Season 2017 will display a variety of different trends for the future of urban development".
With Stefano Boeri, the curatorial team is composed by Li Xiangning, dean of School of Architecture and Urban Planning of Tongji University and Fang Zhenning, independent contemporary contemporary artist, international critic, public and modern art curator.
http://www.shanghaidaily.com/metro/society/Asias-once-biggest-silo-opens-for-exhibition/shdaily.shtml