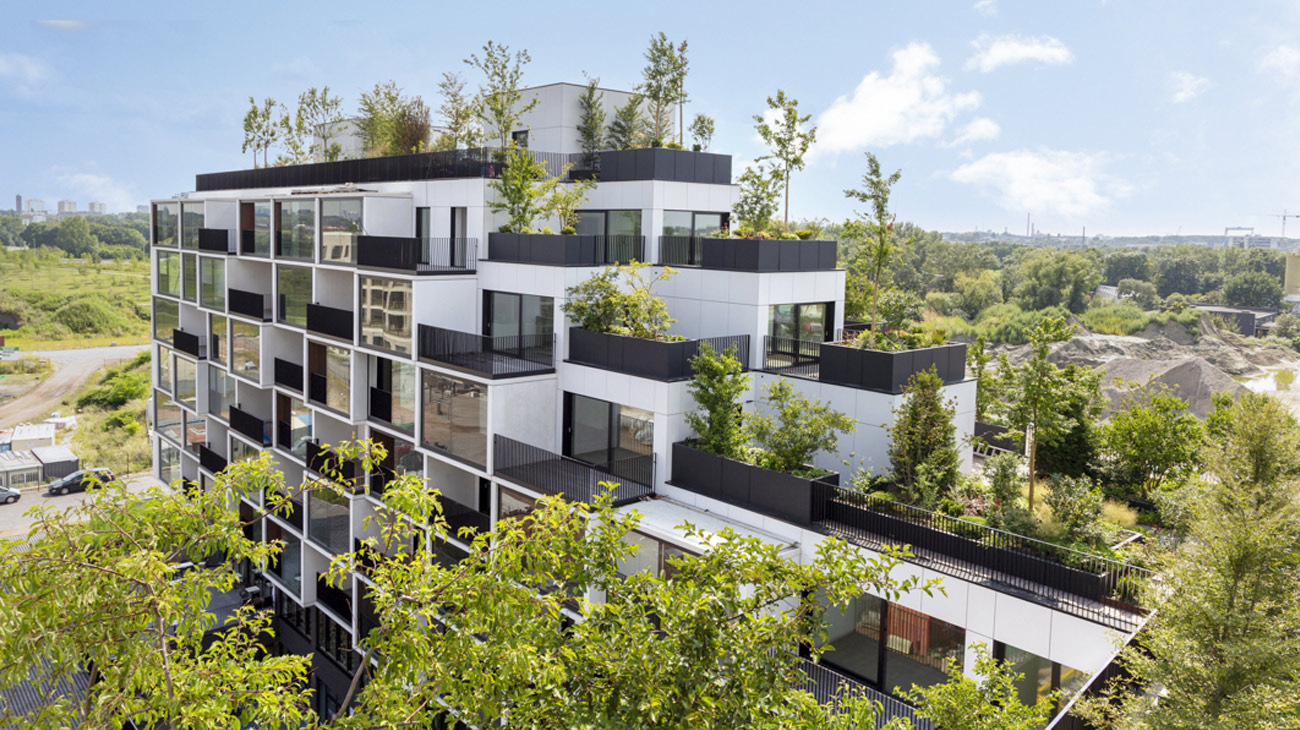 It is not often that the famous Italian architect Stefano Boeri comes to Belgium. However, he was delighted to make an exception for Palazzo Verde, his little gem in Antwerp's Nieuw Zuid district. Today he and his partners at Stefano Boeri Architetti (Francesca Cesa Bianchi e Marco Giorgio), officially inaugurate the brand-new building together with construction partner Triple Living. "I believe that our cities must play a leading role in the battle against the dramatic consequences of climate change. We must urgently make them greener if we wish to succeed in turning the tide", says Boeri with great commitment when describing his vision of the future.
That includes Nieuw Zuid, where sustainability, green, ecology and a future-oriented vision are vital parameters. Right from the very start, Triple Living has been keen to set new sustainability standards with Nieuw Zuid, including elements such as green roofs, recycling flows, innovative materials, future-oriented insulation standards and a central heat network. This entire neighbourhood is an example to the city of how we wish to face the future. Of course, an iconic green building like Palazzo Verde is a must in such a model district.
Palazzo Verde: smart architecture
The name Palazzo Verde, meaning Green Palace, is no coincidence, since the L-shaped design contains a total of 86 trees, 1,000 shrubs and 1,200 plants, reaching up to 780 m2 of total green surface. In addition to plenty of green on the patios and three lush roof gardens, Palazzo Verde also features a garden courtyard of approximately 2000 m2. During the launch in 2018, the project was presented as the very first residential project on Belgian soil to purify the urban air. According to calculations by botanists and engineers at Stefano Boeri Architetti, the building's smart architecture can clean up more than 30 tons of CO2 per year.
Green design as the star in Boeri's oeuvre
The building's architect, the Italian grandmaster Stefano Boeri, is already famous for tackling air pollution and global warming with his creations. Nature always plays a starring role in his green designs. For example, his Bosco Verticale in Milan is a veritable and vertical urban wood: the two residential towers measuring 112 and 80 metres respectively contain no less than 800 trees, 15,000 perennials and 5,000 bushes.
In Eindhoven, Tirana, Huanggang and Nanjing he is well known for other brand new site-specific Vertical Forests and, furthermore. In China, he is involved in the design of Forest City, an urban forest with 40,000 trees and more than one million plants which will provide a home for 30,000 people. As well he planned the Smart Forest City of Cancun, home to 362 hectares of planted surfaces and 120,000 plants and trees from 350 different species. He continues this tradition with Palazzo Verde, as his very first design on Belgian soil.
Future of greener cities
"The more we can incorporate living nature in our cities, the more effective we will be in dealing with climate change", explains Stefano Boeri. "Just think of the advantages: better air quality, reduced energy consumption, more urban biodiversity. And, also very important, a green environment boosts the happiness of its residents. Given all these benefits, green designs such as Palazzo Verde are crucial in the coming years. Cities will be called upon to multiply the number of trees within the urban fabric in an exponential way, improving the air quality and consequently the lives of the inhabitants: a challenge that is necessary to face immediately. Planting a tree is an effective, economical and inclusive way to cope with the climate crisis, and Palazzo Verde is a great example of this".
"The question of how to make cities greener is being considered all over the world", says Stefan Paeleman, managing director at Triple Living. "Here as well. Right from day one, we aimed to make the new neighbourhood Nieuw Zuid as green as possible, including green roofs, wadis, playgrounds, footpaths, and so on. Once the district is complete we will have created more than 12 hectares of additional green. Did you know that we started by designing the landscape, and only then did we move on to the buildings?"
"Palazzo Verde is a project shaped from the perspective of the occupant – tenants and trees", tells Hana Narvaez, director of Stefano Boeri Architetti who lead the project of Palazzo Verde. "It is a building that aims to extend the threshold of the house, transforming it into loggias and balconies, enclosed spaces designed to be used 365 days a year. It is a building that, above all, extends that threshold to the natural environment of the communal gardens that significantly shape the volume of the building."
New partnership in Brussels
The successful partnership will shortly continue since Triple Living has asked Stefano Boeri to take care of the Val d'Or project in Brussels. In Sint-Lambrechts-Woluwe, Triple Living is transforming three office buildings into two green residential buildings in the characteristic style of Stefano Boeri. That means green grafting and green roof gardens, plenty of trees, plants and shrubs. "The new project will be a real challenge", explains Kristof Schellekens, spokesperson at Triple Living. "After all, office buildings are not designed to support the same weight as residential buildings. That's why Boeri is drawing an exoskeleton around the existing buildings. This external skeleton can support the patios and be planted with trees."
For more information of the Palazzo Verde project, follow the Link: https://www.stefanoboeriarchitetti.net/en/project/palazzo-verde-in-antwerp/