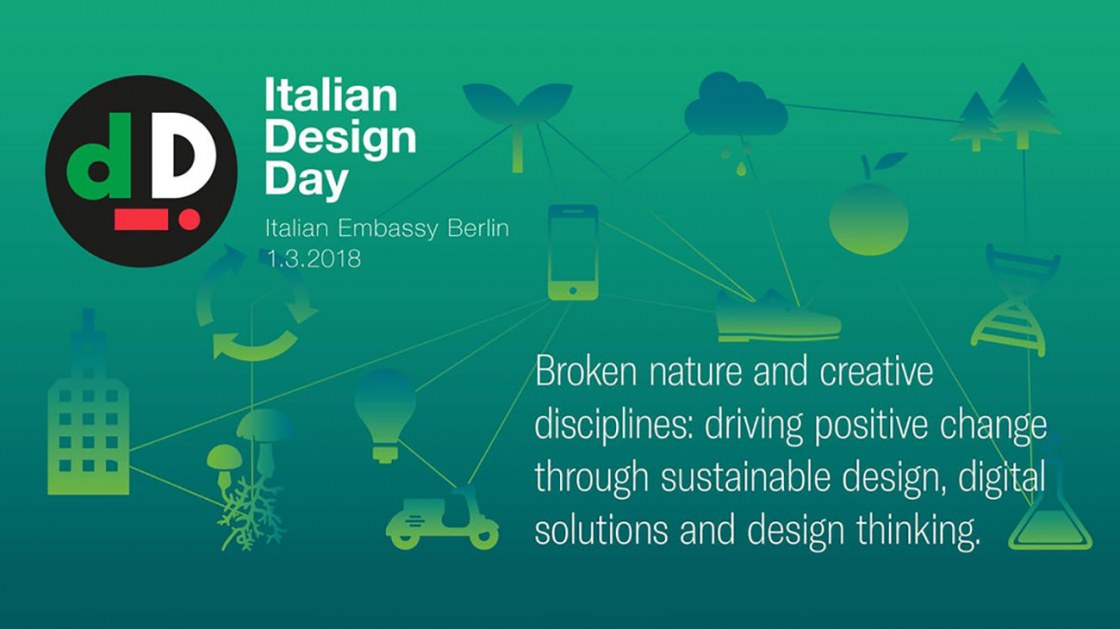 February 28th, 2018
On Thursday, March 1st, Stefano Boeri will take part in the event of Italian Design Day 2018 in Germany, which will be held from 4.00 pm to 9.30 pm at the Italian Embassy Berlin, Tiergartenstraße 22.  The first conference in Berlin entitled "Broken Nature and Creative Disciplines: driving positive change through sustainable design, digital solutions and design thinking", it will echo the theme of the 22nd Triennale International Exhibition in 2019, "Broken Nature – Design Takes on Human Survival". On the same day, in over 100 cities around the world, 100 ambassadors of Italian culture – architects, designers, entrepreneurs – will gather for a round table on sustainable design.
"Designers and artists have a special responsibility. "Organic," "green," "slow," and "sustainable" are catchwords that have been applied in earnest to design – including food and fashion – over the last two decades. Now it is time for designers to leap further and start building reparations into artifacts and concepts ranging from physical objects to buildings, from systems to interfaces, from infrastructures. And it is time for design, a concept born out of the second Industrial Revolution, to engage in all expressions of humanity, through urban regeneration, social innovation and people-centered design. " Description of the Italian Design Day 2018 in Berlin.
The Italian Design Day 2018 is an integrated promotion project launched by the Ministry of Foreign  Affairs with a goal  of highlighting the excellence and peculiarities of Italian design around the world. The International event is dedicated to the relationship between design and sustainability, intended as economic, social and environmental. Thanks to the efforts of Italian Embassies, Consulates and Cultural Institutes it is possible to promote the "Italian Way of Life" campaign.
Program:
4.15-4.30 pm Welcome Address
Pietro Benassi, Italian Ambassador to Germany
Alessandro Colombo, Director, IED-Istituto Europeo di Design
4.30-5.15 pm Keynotes
Luisa Bocchietto, Architect and Designer; President, World Design Organization
Stefano Boeri, Architect and Founder, Stefano Boeri Architetti
Christian Nell, Head of Division, Strategy and Planning, Directorate-General for Culture and Communication, Federal Foreign Office
5.15 – 5.30 pm Coffee Break
5.30 – 7.30 pm Round table with:
Enrica Arena, Co-founder, Orange Fiber – Sustainable textiles
Luca De Biase, Innovation Editor, Nòva24 – Il Sole 24 Ore
Marco Pozzo, Chief Executive Officer, Alessi
Maurizio Montalti, Designer, Officina Corpuscoli andCo-founder, MOGU
Birgit Weller, Member of the Board, International Design Center Berlin; Professor for Industrial Design at HTW Berlin, University of Applied Sciences
Moderated by: Angelika Müller, Publishing Director, H.O.M.E.
7.30 – 9.00 pm Networking and Buffet