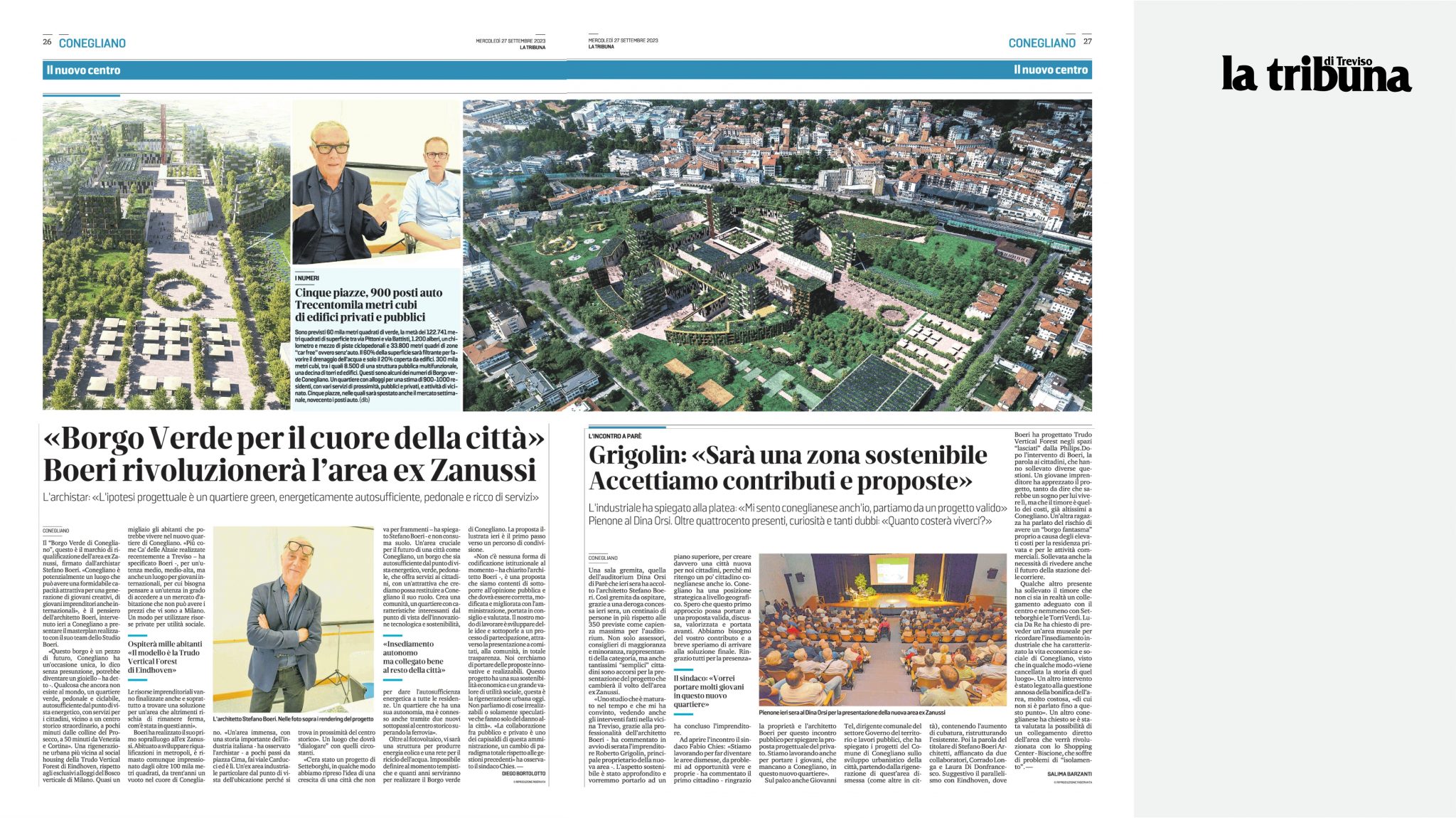 La Tribuna di Treviso dedicates an article to the presentation of the Green Village project, conceived by Stefano Boeri Architetti for the redevelopment of the former Zanussi area in Conegliano, and presented to citizens on Tuesday October 26th.
The project proposal focuses on a number of fundamental objectives, such as the enhancement of the green system and the distribution of services to citizens, together with the energy efficiency of the complex, the de-impermeability of the soil, and the integration of new public and collective functions.
The redevelopment project of the former Zanussi area is therefore a strategic vision, outlining for Conegliano a neighbourhood characterised by a high quality of living, linked to a new meaning of historical village, to the possibility of living in the green while having a close relationship with the city and the surrounding area, thanks to its proximity to the railway system, and its commercial and entertainment centres.
"This village is a piece of the future, Conegliano has a unique opportunity, it could become a gem. Something that does not yet exist in the world, a green, pedestrian and cycling district, self-sufficient from the energy point of view, with services for citizens, close to an extraordinary historical centre, a few minutes from the Prosecco hills, 50 minutes from Venice and Cortina," Stefano Boeri declares.
To read the full article: https://tribunatreviso.gelocal.it/treviso/cronaca/2023/09/26/news/conegliano_boeri_ex_zanussi_bosco_verticale-13444794/
The news was also reported by Treviso Today, Qdpnews, Il Gazzettino., Oggi Treviso. , Il Piave.