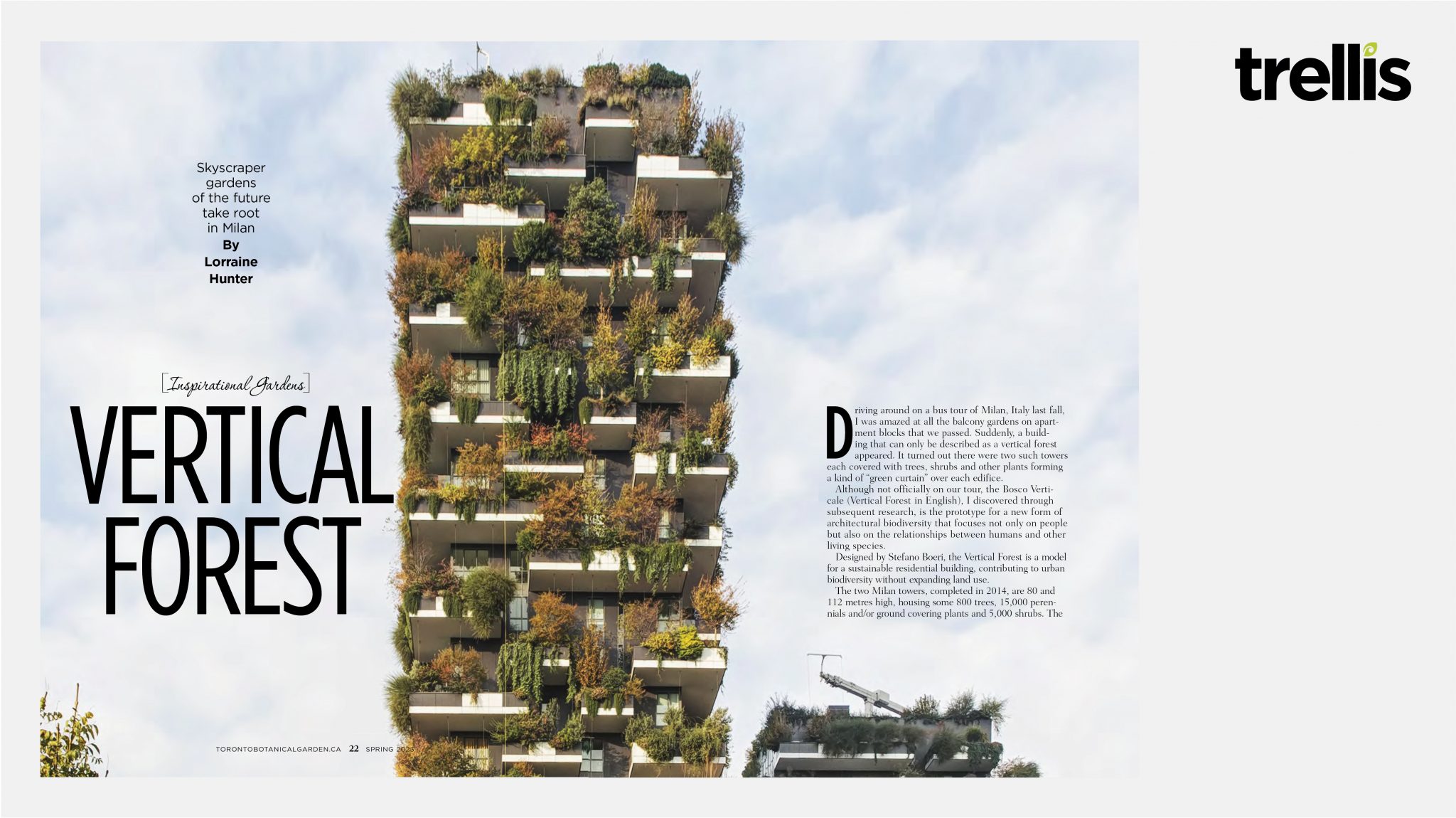 In the 52nd issue of Trellis, the magazine of the Toronto Botanica Garden, an article by Lorraine Hunter describes the Bosco Verticale project in Milan, designed by Boeri Studio (Stefano Boeri, Gianandrea Barreca, Giovanni La Varra) in the Porta Nuova district, as a new way of bringing the idea of the garden into the city.
The Bosco Verticale is the prototype-building of a new architecture of biodiversity, which no longer places man alone at the centre, but the relationship between man and other living species. Formed by two towers, 80 and 112 m high, the façades house a total of 800 trees, 15,000 perennials and/or ground cover plants and 5,000 shrubs. A vegetation equivalent to that of 30,000 square metres of forest and undergrowth, concentrated on 3,000 square metres of urban area.
The concept of the Bosco Verticale, i.e. "a house for trees that also houses humans and birds", defines not only the urban and technological characteristics but also the architectural language and expressive qualities of the project. On a formal level, the towers are in fact mainly characterised by the large balconies staggered between them and cantilevering significantly (about three metres), functional to accommodate the large perimeter pools for vegetation and to allow the unhindered growth of larger trees, even along three floors of the building.
Perhaps the most singular component of this articulated system, now widespread in the urban imagination, is the "Flying Gardeners": a specialised team of arboriculturists who, using mountaineering techniques, once a year descend from the roofs of the buildings to prune and check the condition of the plants, as well as their eventual removal or replacement. All maintenance and care of green areas are in fact managed at condominium level, in order to maintain control of the human-vegetation balance.
To read the full article: https://torontobotanicalgarden.ca/blog/bookshelf/read-our-trellis-magazine-online/
For a pdf of the article: https://www.stefanoboeriarchitetti.net/wp-content/uploads/2023/03/Trellis-Spring-2023_Feb-28-LO-1.pdf