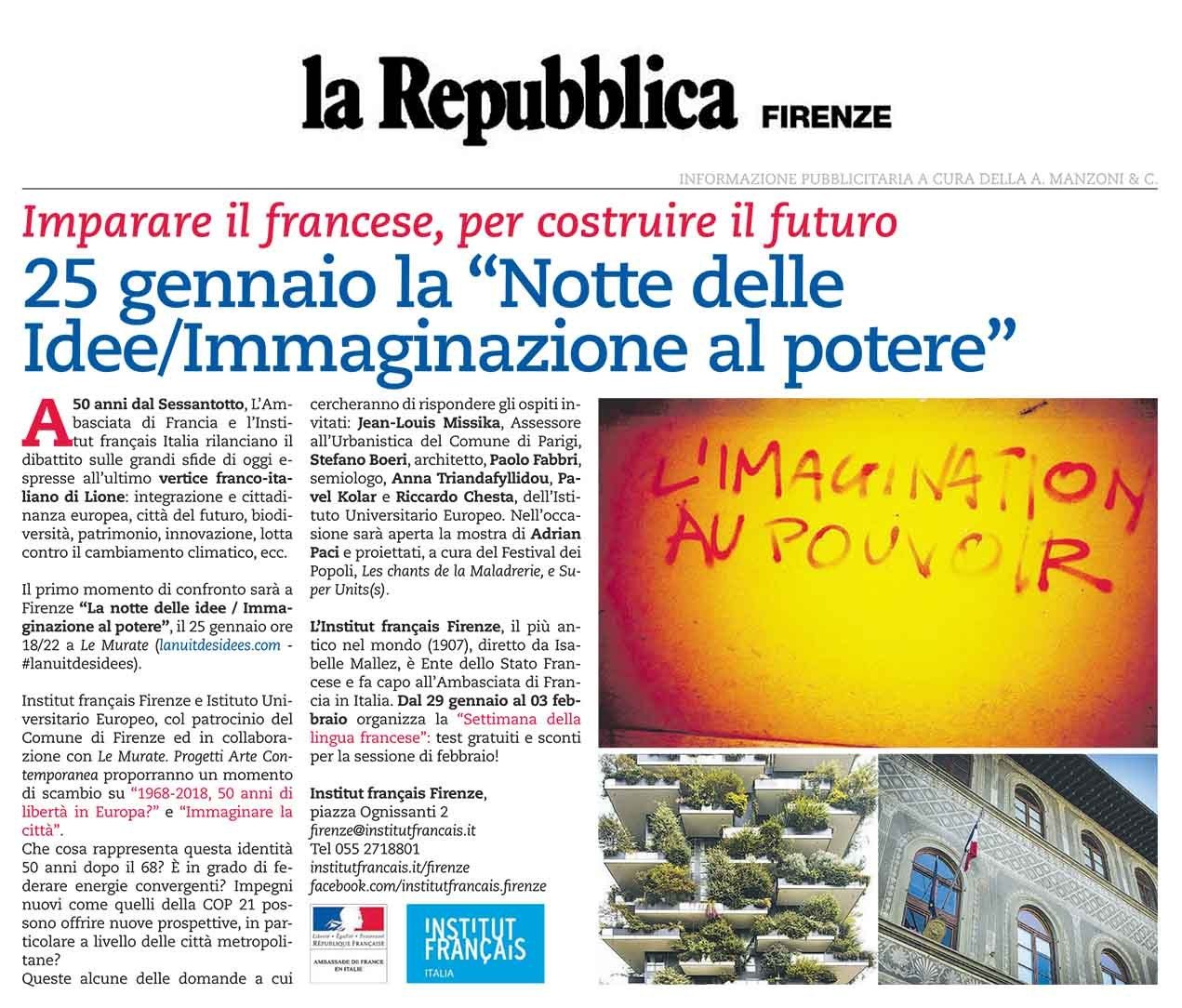 January 25th, 2018
Fifty years since 1968, what has remained from the idea of the world guided by imagination?
The legacy that has been deposited since the years of the revolutionary revolts is back today to remind us of our commitment to consolidate the achievements of political and social freedom, the promotion of collective critical thinking and cultural awareness.
Researchers, politicians and economic leaders meet in Florence for the first of the Franco-Italian dialogues with which the Embassy of France and the Institut français draw attention to the issues of integration, European citizenship, city of the future, innovation, fight against climate change. Tonight, at the Night of Ideas that will be held at Le Murate, Jean-Louis Missika, a city councilor for urban planning, and architect Stefano Boeri will discuss the possible answers to these questions.
The first moment of dialogue will take place in Florence "The Night of Ideas/"Power to the imagination?", on January 25th, from 6pm to 10pm, in Le Murate (lanuitdesidees.com). Institut français of Florence and European University Institute, under the patronage of the City of Florence and in collaboration with Le Murate, Contemporary Art Projects will offer a moment of exchange on the topics: "1968-2018, 50 years of freedom in Europe?"And "Imagining the city". What does this identity represent 50 years after 1968? Is it able to bring together converging energies? New commitments like those of COP 21 can offer new perspectives, particularly at the level of metropolitan cities? These are some of the questions that the invited guests will try to answer: Jean-Louis Missika, Councilor for Urbanism of the City of Paris, Stefano Boeri, architect, Paolo Fabbri, semiologist, Anna Triandafyllidou, Pavel Kolar and Riccardo Chesta, of the university institute European. In the programm of the evening  opening of the exhibition of Adrian Paci and demonstration of  Les chants de la Maladrerie, and Super Units (s), curated by the Festival dei Popoli.