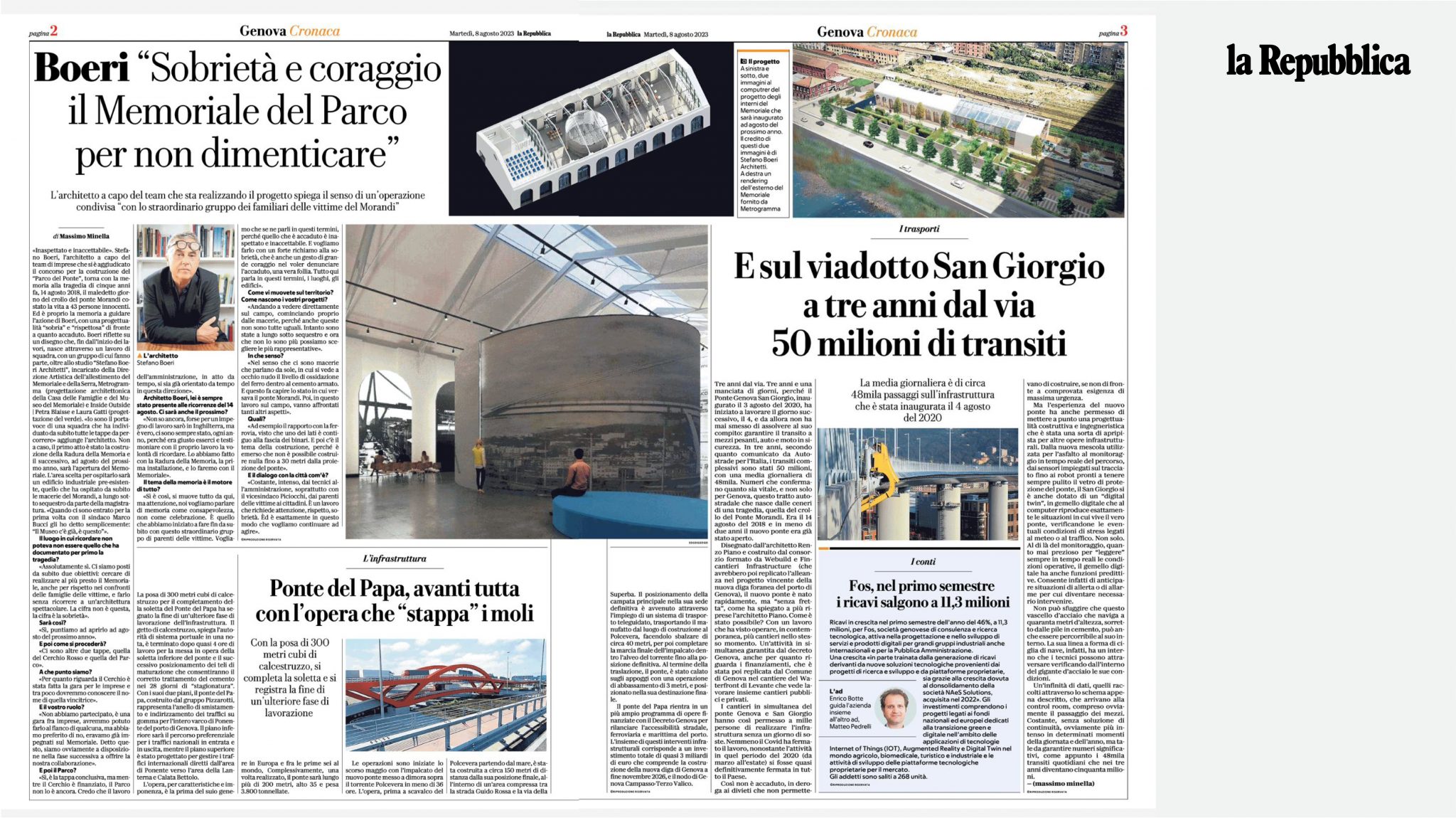 Inside La Repubblica, in the section dedicated to the city of Genoa, an article by Massimo Minella presents, through an interview with Stefano Boeri, the project for the Memorial dedicated to the 43 victims of the Morandi Bridge collapse, for which Stefano Boeri Architetti has been appointed artistic director.
The building, designed by Stefano Boeri Architetti's team (project group: Marco Giorgio, Sara Gangemi, Anastasia Kucherova and Daniele Barillari) constitutes the first nucleus of the project for the Polcevera Park, developed in collaboration with Metrogramma, Inside Outside and Studio Laura Gatti.
"I am the spokesperson for a team that immediately identified all the steps to be taken. It is no coincidence that the first act was the construction of the Radura della Memoria and the next, in August next year, will be the opening of the Memorial. The area chosen to host it will be a pre-existing industrial building, the one that immediately housed the Morandi rubble.
We want to talk about memory as awareness, not as celebration. This is what we started doing right from the beginning with this extraordinary group of relatives of the victims. We want to talk about it in these terms, because what happened is unexpected and unacceptable. And we want to do it with a strong call for sobriety, which is also a gesture of great courage in wanting to denounce what happened, which was truly madness. Everything here speaks in these terms, the places, the buildings," says Stefano Boeri.
To read the full article: https://genova.repubblica.it/cronaca/2023/08/08/news/boeri_sobrieta_e_coraggio_il_memoriale_del_parco_per_non_dimenticare-410398323/