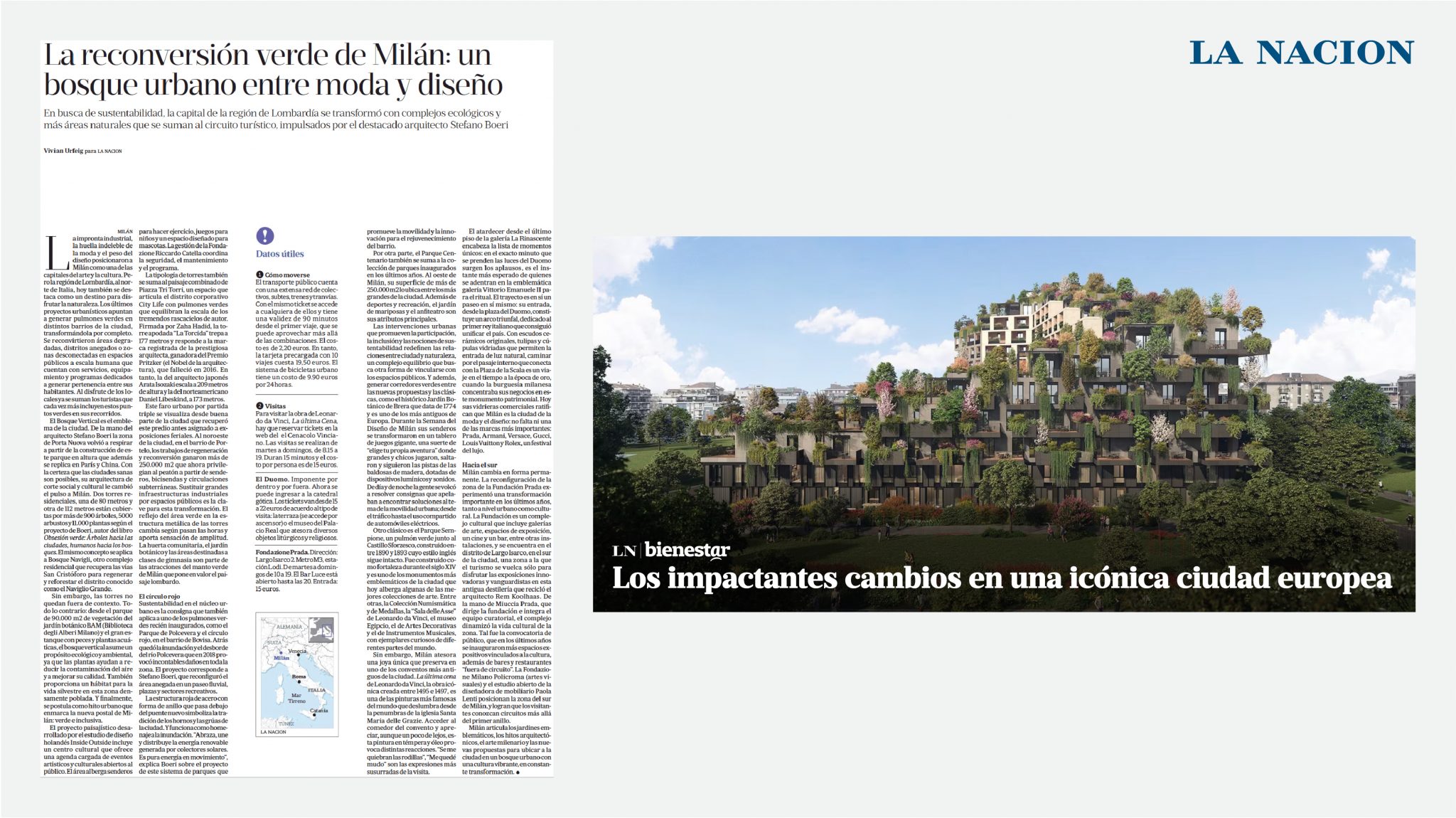 The Argentine daily La Nación dedicates an article to the city of Milan and the urbanistic changes it has undergone in recent years, including Boeri Studio's Bosco Verticale and Bosconavigli, now under construction.
The industrial imprint, the indelible impact of fashion and the weight of design have made Milan one of the capitals of art and culture. But the city also stands out today as a pioneer of integration with nature: the latest urban development projects aim to create green lungs in various districts of the city, completely transforming it.
Starting with historical examples, such as Parco Sempione, or the redevelopment of certain areas of Milan that are now central to the life of the city, the Bosco Verticale is cited as the progenitor and now symbol of a new architectural paradigm. Rather than an architectural object tout-court, the presence of the vegetal component makes the Bosco Verticale assimilable to a set of processes – in part natural, in part managed by man – that accompany the life and growth of the inhabited organism over time, leading it to be "a house for trees that also hosts humans and birds".
The article also moves on to the future of the city, citing on its cover, among others, the Bosconavigli project, a residential complex based on an idea by Stefano Boeri and developed with Arassociati and AG&P greenscape, in Milan's San Cristoforo district, a junction between the city and the river area of the Ticino and Alzaia del Naviglio di Porta Ticinese. The building takes up and re-elaborates the typology of the courtyard house, typical of the Lombard tradition, combining it with that of the vertical bocso: the volume has a spiral shape that makes it possible to exploit the progressive variation of heights (up to a maximum of 11 levels) to create green terraces housing 170 trees, of 60 different species, together with shrubs and climbing plants
To read the full article: https://www.lanacion.com.ar/salud/los-impactantes-cambios-en-una-iconica-ciudad-europea-nid02062023/