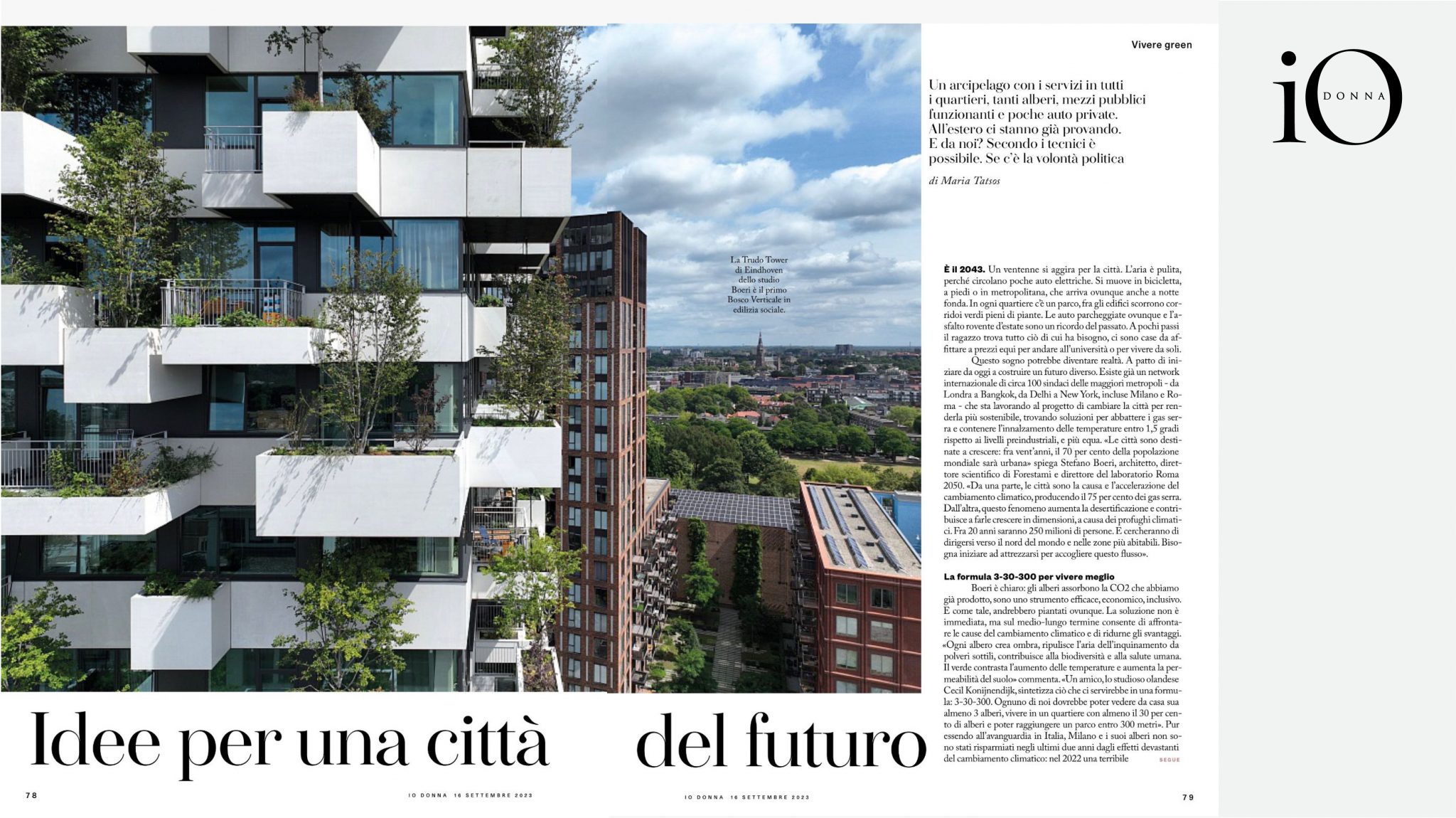 In the weekly magazine Io Donna, an article by Maria Tatsos entitled Ideas for a city of the future presents some of the most effective solutions to fight climate change in the city, citing the Trudo Vertical Forest project by Stefano Boeri Architects in Eindhoven as an example of urban forestation.
The article considers various methods to improve living conditions in the urban environment, from public transport with the implementation of bicycle routes, establishing pedestrian zones or low-speed zones, to the 3-30-300 theory, which calls for at least three trees near every home, at least 30 per cent trees in every neighbourhood, and a park within 300 metres.
Concrete examples of this approach include the policies implemented by the city of Vienna and the vision of Stefano Boeri Architetti, exemplified in Trudo Vertical Forest, the first example of a vertical forest dedicated entirely to social housing.
Trudo Vertical Forest represents the achievement of a real milestone: by making the Vertical Forest typology accessible to everyone, even low-income tenants, the project demonstrates that living in contact with trees and greenery is not an exclusive prerogative, but can indeed become a viable choice for citizens with very different economic backgrounds. Trudo Vertical Forest succeeds in guaranteeing high quality, due to the flexibility of the interior spaces and their relationship with open spaces, in a building with a significantly reduced construction cost. The project does not only modify the urban landscape, but aims to define new housing standards for social housing and at the same time respond to both environmental and housing issues.
To read the full article: https://www.iodonna.it/attualita/costume-e-societa/2023/09/17/idee-per-una-citta-del-futuro/