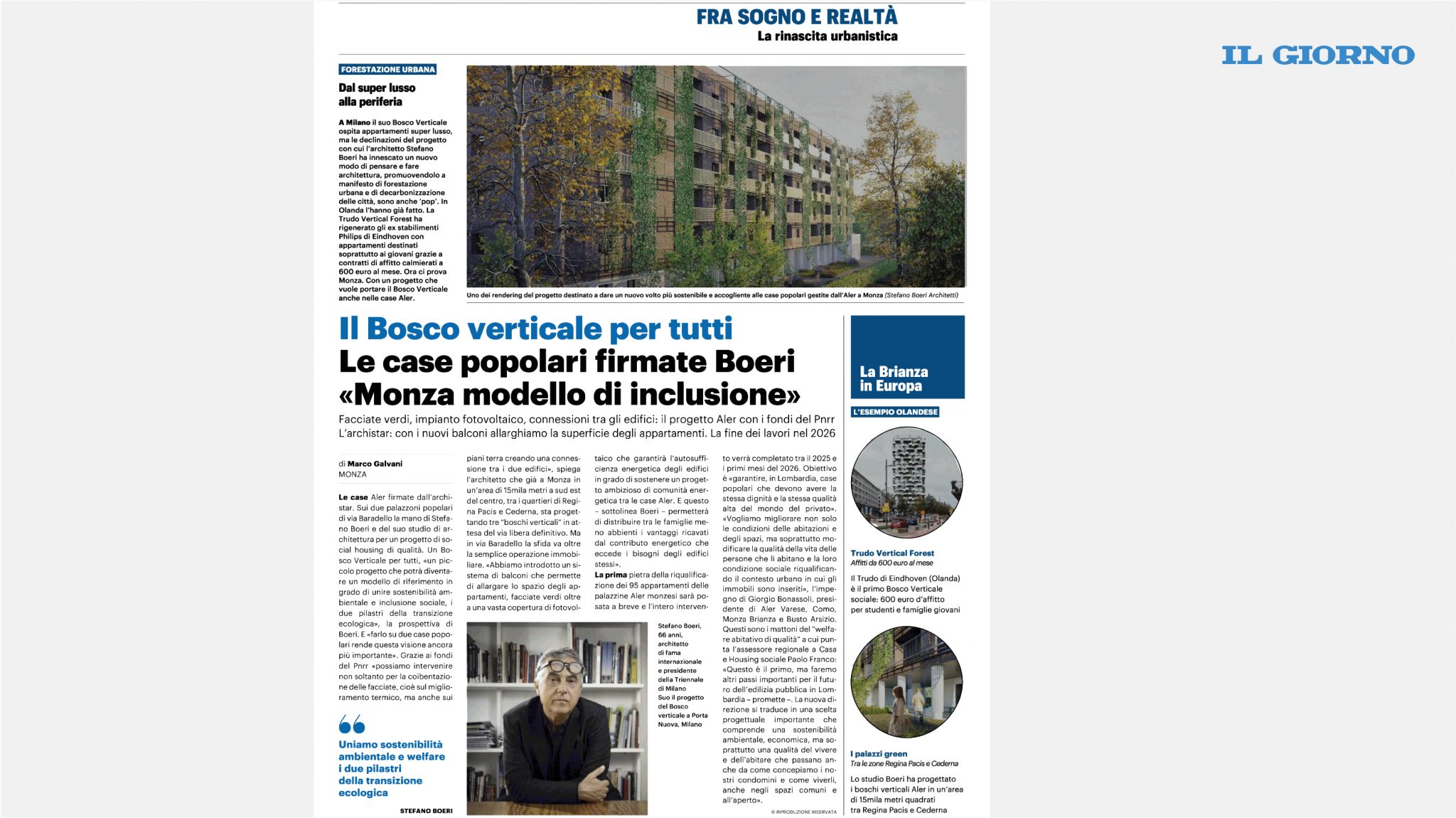 The newspaper Il Giorno presents Stefano Boeri Architetti's project for the redevelopment of two Aler houses in Via Baradello 6 and 12, in Monza.
The project not only proposes to improve residents' quality of life by introducing a system of balconies, green façades and social spaces between the two blocks and in their porticoes, but thanks to the presence of photovoltaics and the reduction in consumption allowed by the work on the façades, it allows the two buildings – and the others owned by ALER of Monza and Brianza – to constitute an innovative and advanced form of energy community, capable of distributing the benefits obtained from the energy contribution exceeding the buildings' needs among the less well-off families.
The intervention proposed by Stefano Boeri Architetti for social housing in Monza is a demonstration that energy self-sufficiency and social inclusion can be the two pillars of a regeneration of Italian social housing.
"A small project that can become a reference model capable of uniting environmental sustainability and social inclusion, the two pillars of the ecological transition, and doing it on two council houses makes this vision even more important," says Stefano Boeri.
To read the full article: https://www.ilgiorno.it/monza-brianza/cronaca/monza-larchistar-per-le-case-popolari-stefano-boeri-firma-i-palazzi-aler-di-via-baradello-cxq1m6cx
The news was also reported by other national newspapers such as La Repubblica Milano, Il Cittadino, Affari Italiani, The World News, Lombardia Notizie Online, Monza Today, Vivere Lombardia, Rinnovabili, Luce, Viviere Milano, Vivere Monza, Il Giornale di Monza, Il Giornale del'Ambiente.