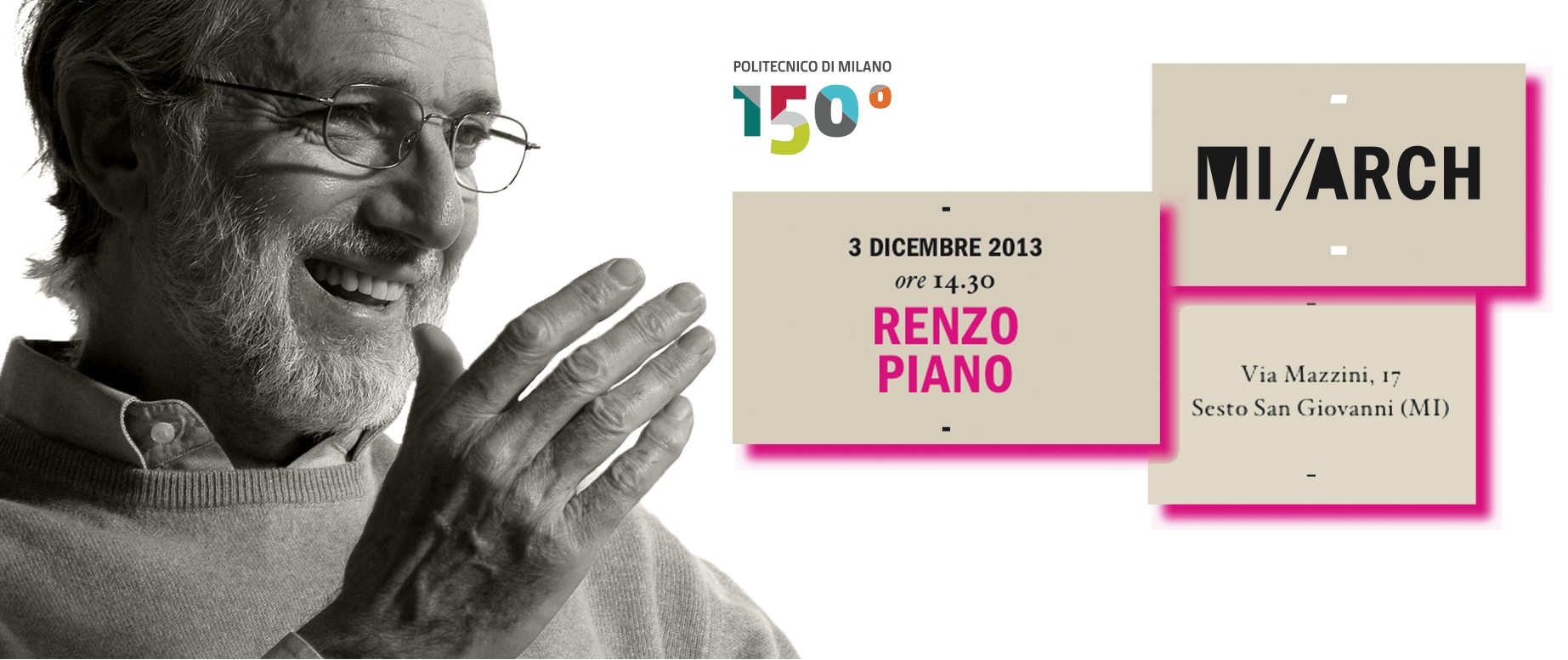 Renzo Piano's public MI/ARCH  lecture, which was originally scheduled for November 27th,  is now taking place tomorrow, 

Tuesday 3rd  December at 14:30

, Via Mazzini 17, Sesto San Giovanni (M1).  This lecture will take place in the open air, so dress warmly.  Streaming video is not available for this lecture.  

Click here

to view more.
Renzo Piano (Genoa, 1937)After graduating  from the Polytechnic of Milan in 1971, Renzo Piano, together with Richard Rogers, founded the Piano & Rogers studio after they won the competition for the creation of the Centre Pompidou in Paris. Up until the 90's Mr.Piano  collaborated with engineer Peter Rice, creating the Atelier Piano & Rice, from 1977 to 1981. This eventually led to the creation of ​​the Renzo Piano Building Workshop, which today employs about 150 people, with offices in Paris, Genoa and New York.
Together with his employees, Mr.Piano has worked on projects on an international level: his work includes the Menil Collection in Houston, the International Airport Terminal in Osaka Kansai, the Fondation Beyeler in Basel, the Cultural Centre Jean-Marie Tjibaou in New Caledonia, Potsdamer Platz in Berlin, the redevelopment of the port of Genoa, the Auditorium Parco della Musica in Rome, the Nasher Sculpture Center in Dallas, the extension of the Museum of Art in Atlanta and the Morgan Library in New York, Maison Hermès in Tokyo, the home of the New York Times, the California Academy of Science in San Francisco, the redevelopment of the site of Ronchamp, the expansion of the Art Institute of Chicago, the Isabella Stewart Gardner Museum in Boston, the Kimbell Art Museum in Fort Worth, as well as the London Bridge Tower (the Shard ) in London. In his career he has received numerous awards,  among these,  the "Royal Gold Medal" for architecture at the RIBA in 1989, the "Praemium Imperiale" in Tokyo in 1995, the "Pritzker Architecture Prize " in 1998 and the "AIA Gold Medal " of the American Institute of Architects in 2008.
Since 2004 Renzo Piano has been engaged in the Renzo Piano Foundation, a non-profit organization dedicated to the advancement of the architectural profession through educational programs and educational activities. The new office was inaugurated in Genoa, at the Punta Nave in June 2008. On September 4, 2013 Mr.Piano was appointed senator for life by President Giorgio Napolitano. In Milan he's currently engaged in the project City Health, the public centre of care and research that brings togehter the National Institute of Cancer and The Neurological Institute Carlo Besta, located in the former Falck areas of Sesto San Giovanni.