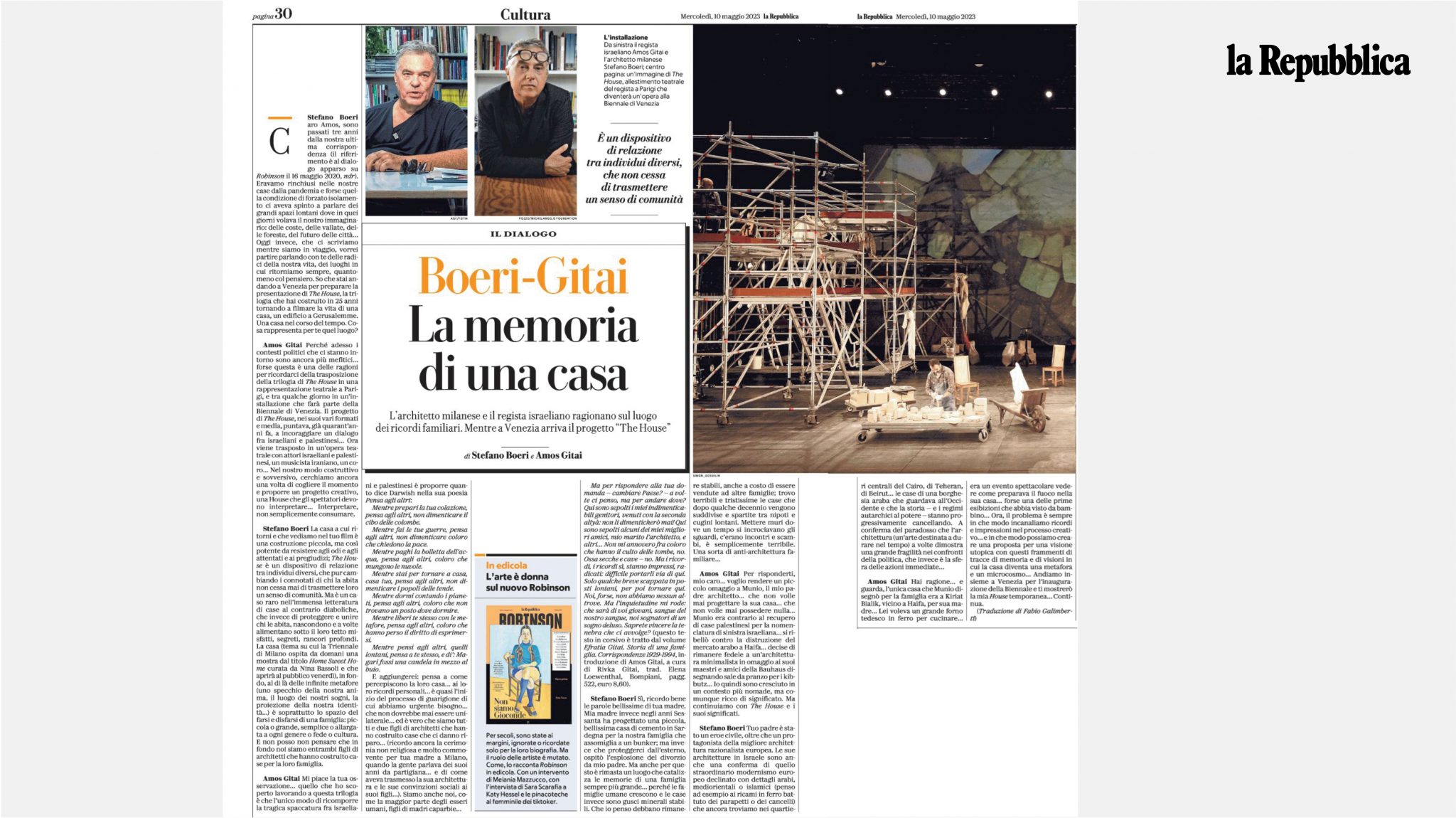 The Culture section of La Repubblica features a dialogue between Stefano Boeri and Amos Gitai, in which the architect and Israeli director reflect on the concept of home, the place of their main family memories.
The article starts from the project The House, a trilogy performed in theatres in Paris, which will be presented as an installation at the Venice Biennale 2023, to reason about what the place of home represents in their personal history, interweaving childhood memories with images of the present and the past.
"The only house that [my father] Munio designed for the family was in Kiriat Bialik, near Haifa, for his mother. She wanted a big German iron oven for cooking, it was a spectacular event to see how he prepared the fire in his house, perhaps one of the first displays I saw as a child. Now, the question is always how we channel memories and impressions into the creative process, and how we can create a proposal for a utopian vision with these fragments of memory traces and visions in which the house becomes a metaphor and a microcosm," says Amos Gitai.
"But also because of this [my childhood home] has remained a place that catalyses the memories of an ever-growing family because human families grow and houses on the other hand are stable mineral shells. That I think should remain stable, even at the cost of being sold to other families; I find houses that after a few decades are subdivided and shared out among grandchildren and distant cousins terrible and sad. Putting up walls where once glances crossed, there were encounters and exchanges, is simply terrible". Stefano Boeri concludes.
To read the full article: https://www.repubblica.it/cultura/2023/05/09/news/amos_gitai_stefano_boeri_dialogo_the_house_venezia_memoria_di_una_casa-399445612/