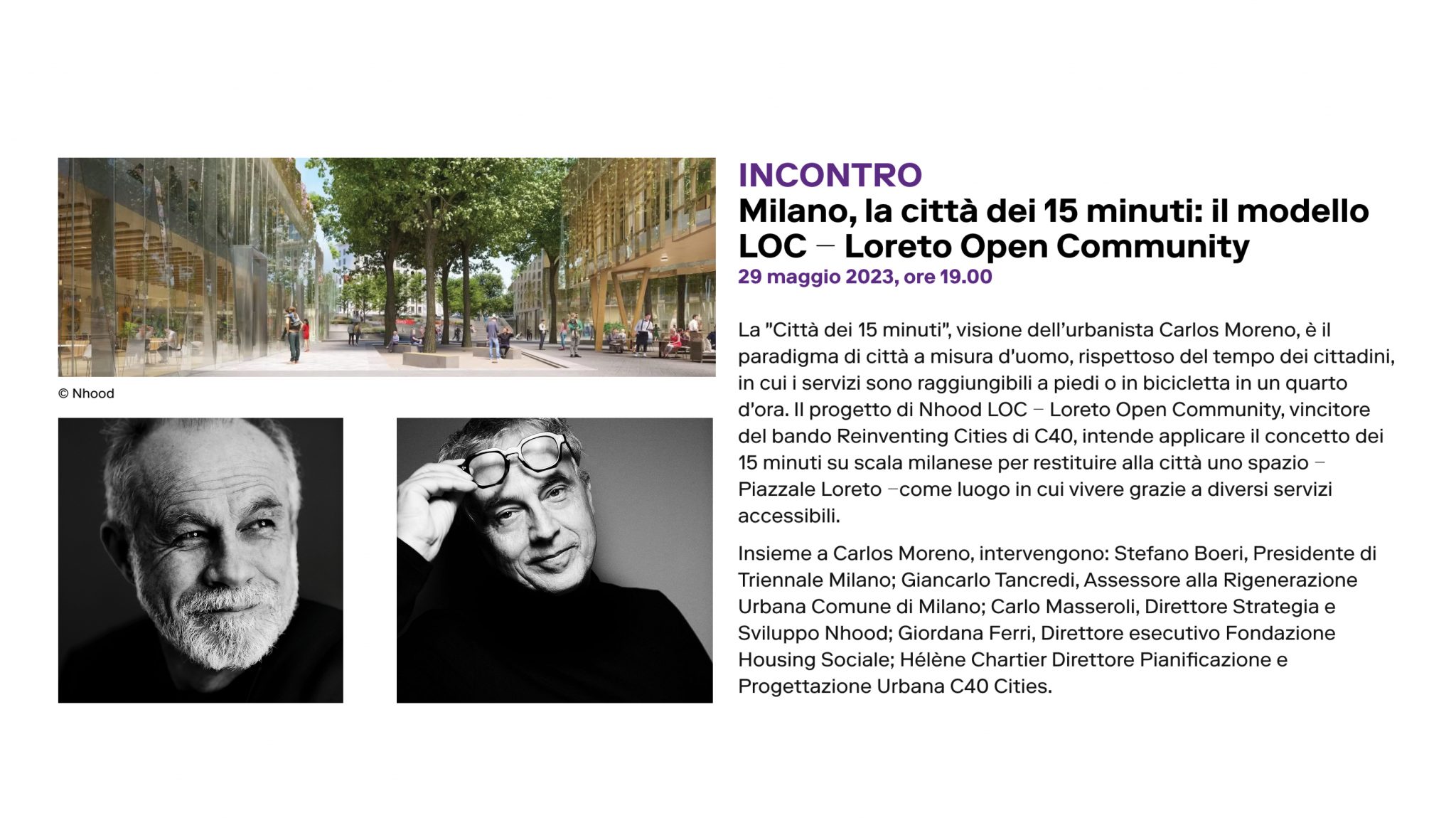 On Monday May 29th at 7 p.m. the event Milan, the city of 15 minutes: the LOC model – Loreto Open Community is held at the Triennale di Milano, featuring the Lectio Magistralis by Carlos Moreno, urban planner and creator of the "city of 15 minutes" model, with an introduction by Stefano Boeri.
The "City of 15 minutes", a vision of urban planner Carlos Moreno, is the paradigm of a city on a human scale, respectful of citizens' time, in which services can be reached on foot or by bicycle in a quarter of an hour: through a reorganisation of proximity, the 15-minute city offers individuals greater control over their time and how they wish to dispose of it.
In this context, the natural element is a key element: 'nature, in addition to its ornamental vocation, is a vector of well-being and from a health point of view brings benefits such as reducing stress and respiratory diseases. It also allows one to hold on to a tangible relationship with time and the seasons and can contribute to the resilience of inhabitants and the built environment. The 15-minute city presupposes precisely the greening of neighbouring towns, streets and public parks as necessary for a good quality of life,' Moreno said.
Nhood's project LOC – Loreto Open Community, winner of C40's Reinventing Cities competition, intends to apply the 15-minute concept on a Milanese scale to return a space – Piazzale Loreto – to the city as a place to live thanks to various accessible services.
Together with Stefano Boeri, speakers include: Giancarlo Tancredi, Councillor for Urban Regeneration City of Milan; Carlo Masseroli, Director of Strategy and Development Nhood; Giordana Ferri, Executive Director Social Housing Foundation; Hélène Chartier Director of Planning and Urban Design C40.
For further information: https://triennale.org/eventi/milano-citta-15-minuti