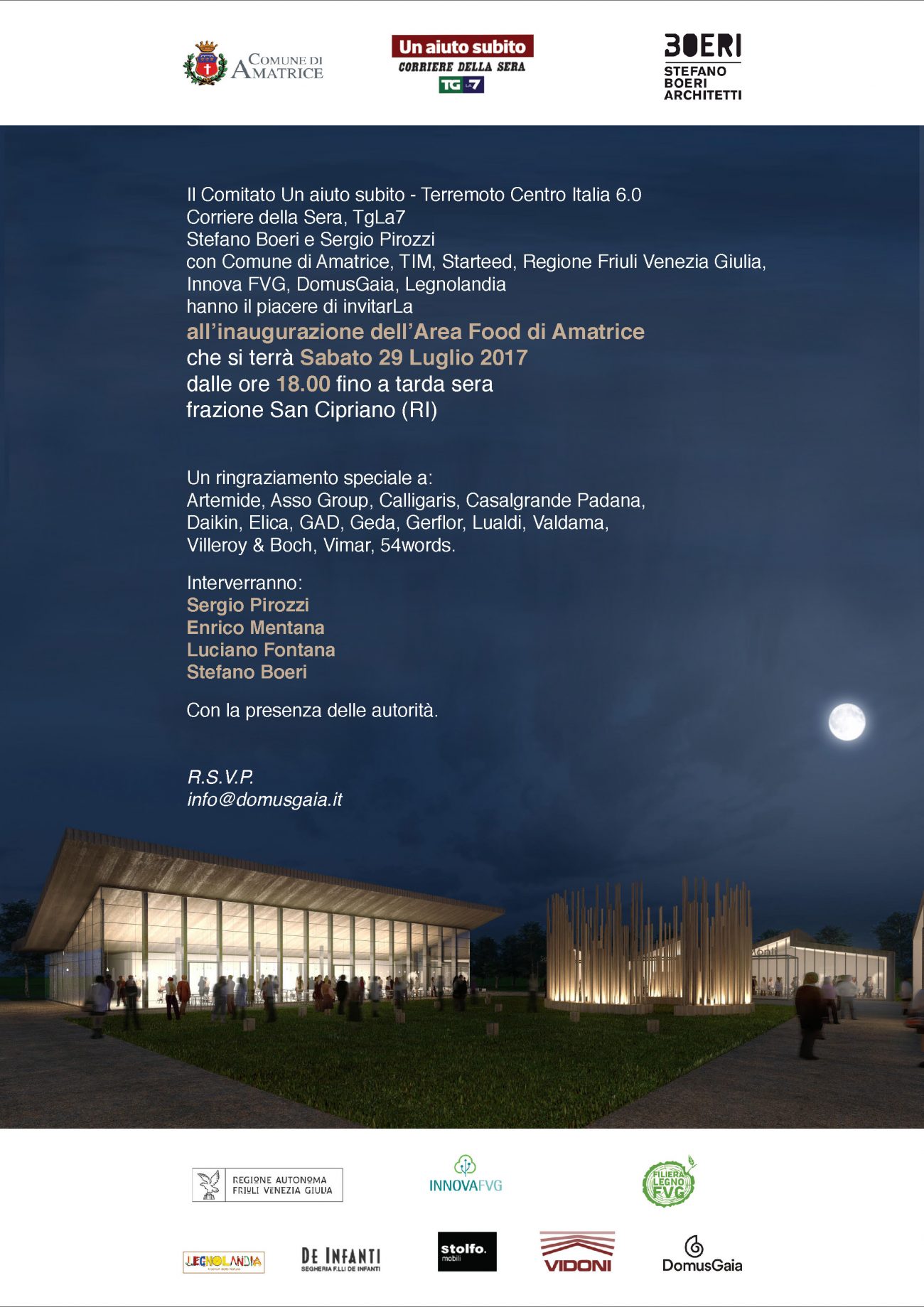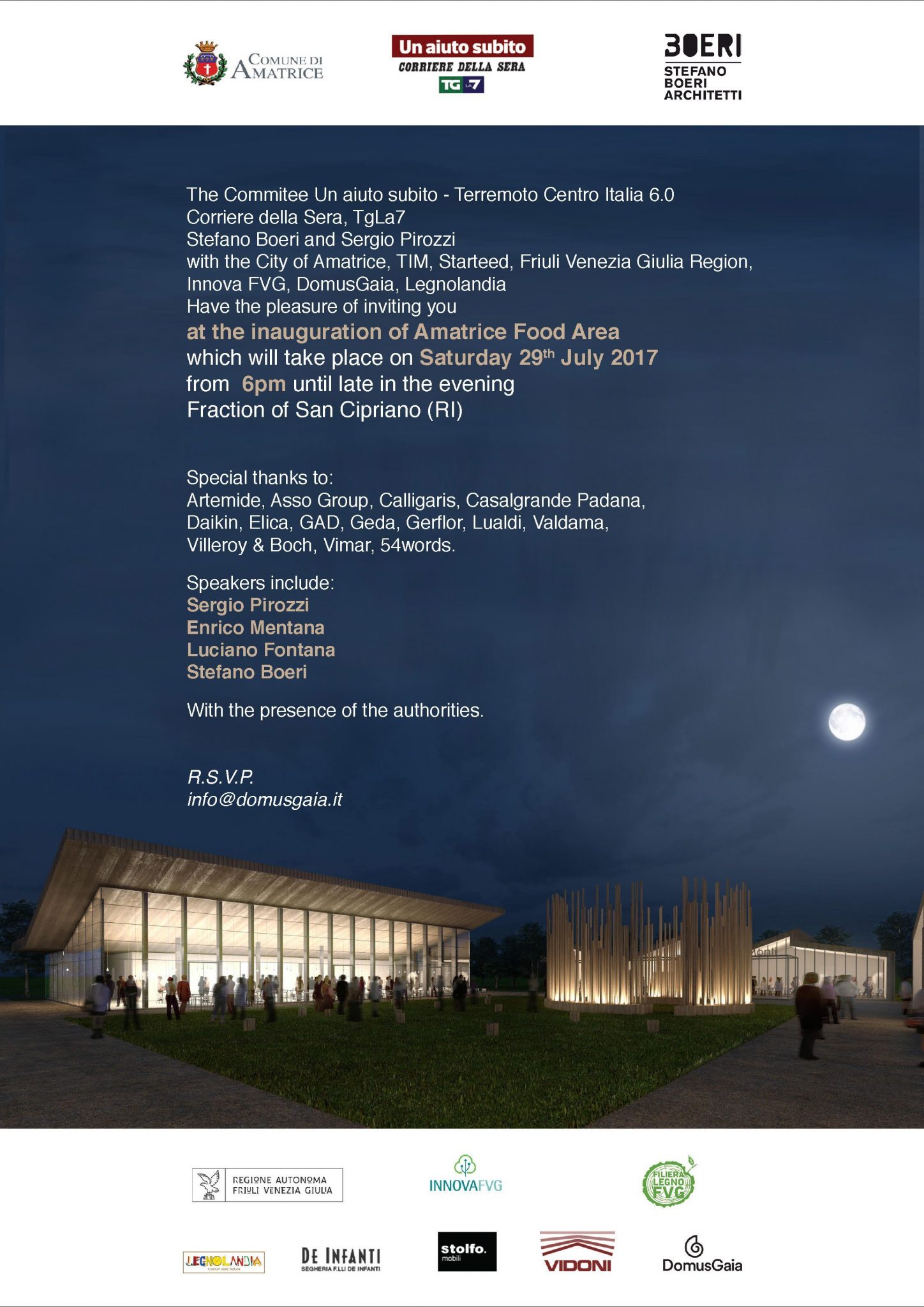 The official inauguration of the Amatrice Food Village will be held Saturday, 29th July at 6:00 p.m. in the presence of authorities and citizens. It is the first complex, built with Corriere della Sera and TgLa7 funding, designed by  Stefano Boeri Architetti, to be entirely built and delivered to the citizens.
The work was accomplished with pro-earthquake victim funds provided by Corriere della Sera and TgLa7 through the "Un aiuto subito. Terremoto Centro Italia 6.0" joint initiative, which has been a reliable point of reference for those who want to contribute to public utilities works in the wake of catastrophic events since 1997.
The funds for the populations struck by the earthquake in Central Italy, raised with "Un Aiuto Subito" by Corriere della Sera and TgLa7 through Banca Prossima and the TIM "With You We Do" crowdfunding, amount to over €8 million.
The delivery of the entire facility is tangible proof of the rebuilding, part of the "Amate Amatrice" project, thanks to the design contribution of the architect Stefano Boeri and the operational contribution of the Friuli Venezia Giulia Region, Innova FVG, Filiera del Legno FVG and Domus Gaia. This important challenge kept the entire staff of Stefano Boeri Architetti busy in an innovative, 100% wood project built very quickly in order to contribute to overcoming a dramatic emergency.
Attending the inauguration along with Amatrice Mayor Sergio Pirozzi and representatives of the local institutions will be Luciano Fontana, editor-in-chief of Corriere della Sera; Enrico Mentana, news director of TgLa7; Vasco Errani, reconstruction commissioner; Fabrizio Curcio, director of the Civil Defence Department; the architect Stefano Boeri; and Matteo Marsilio, representative of the Friuli Filiera del Legno coordinated by Innova FVG.
The "AMA AMATRICE Rose Garden" will also be presented during the inauguration. It symbolises the rebuilding, and Dania Lupi will accompany the presentation with a reading of lines of verse dedicated to Amatrice that she herself wrote.
Then the town's excellence will get off to a new start on 29th July. All restaurateurs, united, will return to their restaurants to prepare what has made them famous worldwide for the first time since the earthquake. A new life awaits Amatrice starting now. Come on, Amatrice!
The official delivery of the food area is an authentic turning point. Today, after so many collapses and promises, there is finally a solid place. Designed by Stefano Boeri and built by the Filiera del Legno of Friuli Venezia Giulia, it is complete with all eight facilities where one coffee bar and seven restaurants that fell to pieces on 24th August can call home. With large windows looking onto the Monti della Laga mountain range, it is a place that will attract tourists from around the world and will give jobs to dozens of Amatrice families.
Boeri said: "For me, this is a very touching moment. I'm happy that the new area has been delivered after so much effort and a never-ending winter that seemed to want to block us in every way! With the exertion of everyone, we were successful in our undertaking and today everything will begin to work again. Amatrice will finally be able to go back to offering its citizens and visitors the area's food and wine excellences. It is a small though big sign of revival in a place profoundly wounded in soul and body, a place that all Italians hold dear to their hearts".
The marvel of this area demonstrates that something can be built rapidly at a low cost, safely and with high quality.
Debora Serracchiani said: "Friuli Venezia Giulia is proud to be in the front line in Central Italy to offer its combination of human experience and technology needed for the rebuilding. In this sense, Amate Amatrice is truly an innovative project that dates back to the land shaken by the 1976 earthquake, and it stretches out its arms to the future through the most advanced know-how of our wood industry".
"We are proud to have taken up a challenge as important as rebuilding Amatrice together with Filiera del Legno FVG", said Matteo Marsilio. "The completion of the facility, and its being put into use, symbolise a strong signal of rebirth for the people of Amatrice, for the workers' fresh start and of the production activities."