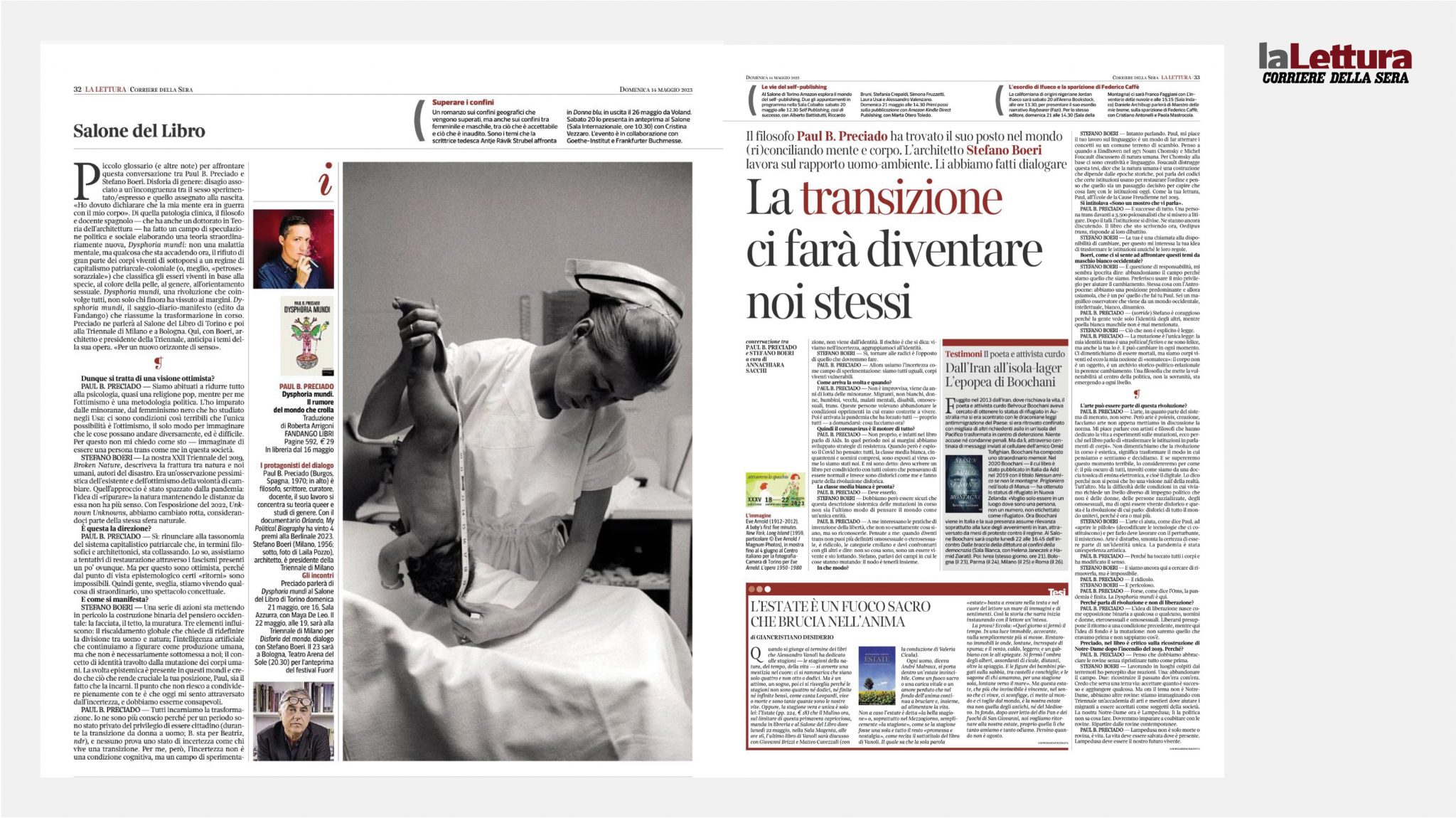 In Corriere della Sera's weekly supplement La Lettura, a dialogue is published between Stefano Boeri and Paul B. Preciado, Spanish writer and philosopher, in the context of the presentation of the book Dysphoria Mundi during the Turin Book Fair.
The article, edited by Anna Sacchi, retraces the themes dear to the writer, delving into the problems of the world we live in from a political and social as well as an environmental point of view.
Gender issues, capitalism and transition are the main keywords of the revolutionary 'liberation' that Preciado invokes, a rethinking of the role of the human being similar to that advocated by Stefano Boeri, in relation to the natural world.
"We all embody transformation. I am more aware of it because for a time I was deprived of the privilege of being a citizen (during the transition from woman to man; B. stands for Beatriz, ed.), and no one experiences a state of uncertainty like those who experience a transition. For me, however, uncertainty is not a cognitive condition, but a field of experimentation, it does not come from identity. The risk is that we say: let us live in uncertainty, let us cling to identity,'" says Paul B. Preciado
"A series of actions is undermining the binary construction of Western thought: the façade, the roof, the masonry. Three elements are influencing it: global warming, which calls for a redefinition of the division between man and nature; artificial intelligence, which we continue to portray as human production, but which is not necessarily subservient to us; and the concept of identity overwhelmed by the mutation of human bodies. The epistemic turn is present in these worlds, and I think what makes your position crucial, Paul, is that you embody it," concludes Stefano Boeri.