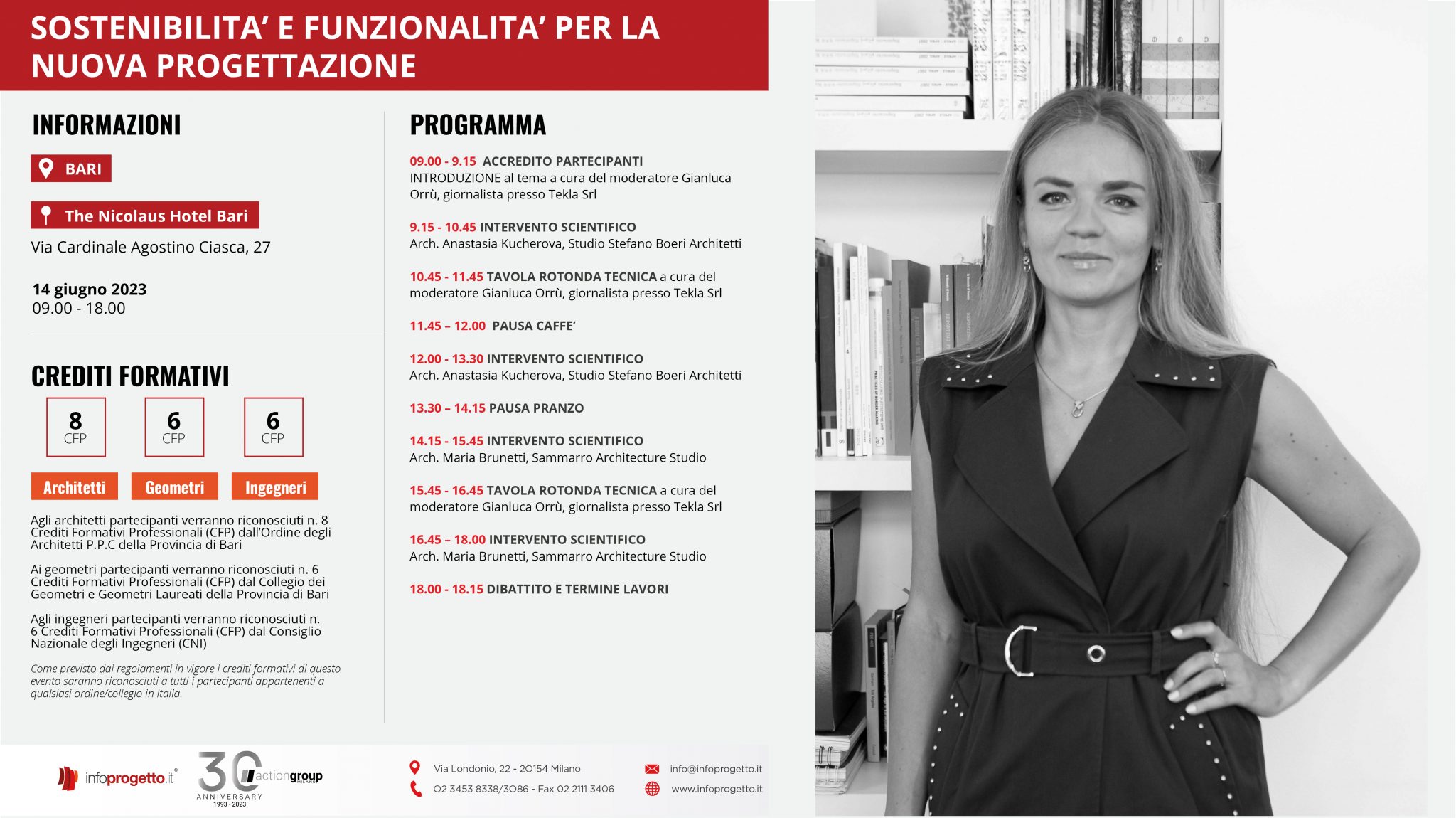 On Wednesday June 14th, the meeting Sostenibilità e Funzionalità per la Nuova Progettazione (Sustainability and Functionality for New Design) is held in Bari, under the patronage of the Provincial College of Surveyors and Graduate Surveyors of Bari and the collaboration of the Order of Architects, Planners and Landscape Architects of the province of Bari, with the participation of Anastasia Kucherova, project leader of Stefano Boeri Architetti.
Improving the efficiency of public and private building stock is a priority today. In order to come into line with current regulations in terms of sustainability, it is therefore necessary to promote the energy conversion of existing buildings, encouraging deep redevelopment and transformation into "nearly zero energy buildings".
The meeting will be introduced by moderator Gianluca Orrù, journalist at Tekla Srl, and at 9.15 a.m. Anastasia Kucherova will take the floor to present Stefano Boeri Architetti's project philosophy, from the building scale to the masterplan, aimed at urban forestation, together with some significant case studies.
The studio's activity and design approach, the subject of an international publication ("Green Obsession" Stefano Boeri Architetti, Actar, 2021), is embodied in the integration with different strategies, methods and scales, of living nature with architecture, reconnecting the natural and human spheres and re-evaluating our role as human beings on the planet.
Arch. Maria Brunetti, Sammarro Architecture Studio will also be speaking.
For more information and to register: https://www.infoprogetto.it/prodotto/sostenibilita-e-funzionalita-per-la-nuova-progettazione-3/
The meeting grants 6 training credits to surveyors and engineers, and 8 training credits to architects.