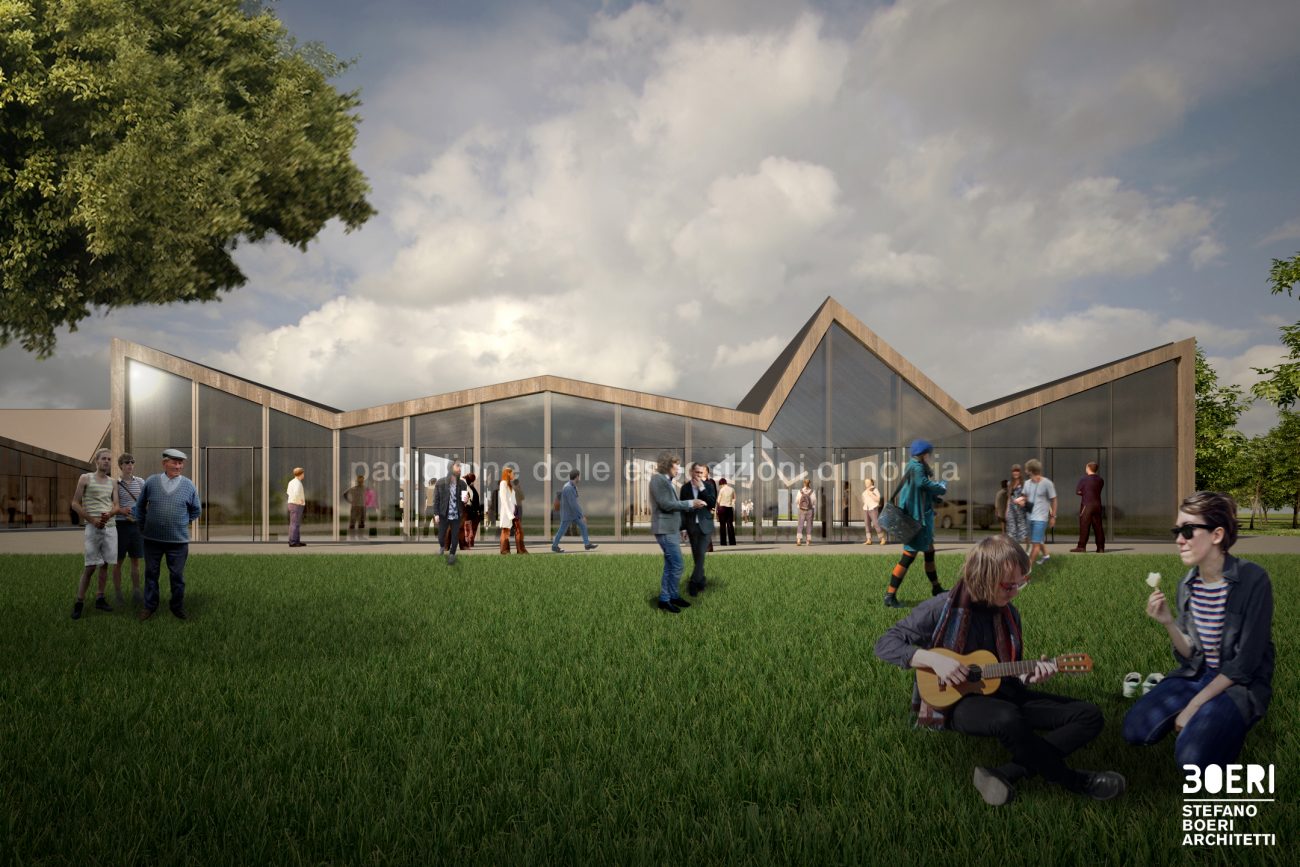 June 27th, 2017
On June 30th at 12.00 pm, in the presence of Italian institutions and citizens, there will be the opening ceremony of the first pavilion, part of the Multifunctional Centre for the Norcia's territory cultural and economical promotion, designed by Stefano Boeri Architetti with funds raised by Un Aiuto Subito – sponsored by Corriere della Sera and TG La7.
The opened pavilion is the first one of four projects planned to complete the Multifunctional Centre that will allow people living in Norcia to use temporary collective spaces, while expecting the reconstruction of their public buildings damaged by the October 30th 2016 earthquake.
The four wood made pavilions that compose the Multifunctional Centre, built thanks to the contribution of Filiera del Legno Friulana, will be raised around a central square and will be characterized by their sinuous pitched roof. Each pavilion, with its own orientation and shape, will create unique relations and perspectives on the surrounding landscape, which is characterized by the "marcite" in the south part and by the dense historic centre within the walls on the north side.
The opening of the first pavilion of the Multifunctional Centre is a new important turning point toward the reconstruction of one of the most damaged areas by the earthquake that happened in central Italy. Nicola Alemanno, Norcia's Mayor, declared: "even if there are still many things to do, we are now working to realize a gastronomic event in which the commercial activities, present in Norcia before the earthquake, can participate with their stands and their products".
The opening ceremony will be preceded by the walk "Nel Cratere. Un LABoratorio per la Ricostruzione" at 9.00 am, which is part of a series of surveys in the earthquake damaged areas.
This initiative is an introduction to the 3 working days that will be held in Norcia and Spoleto on Friday 30th of June, Saturday 1st and Sunday 2nd of July, directed by Stefano Boeri and the architect Maria Chiara Pastore. Those 3 days are thought as a moment of synthesis, meeting and connection on the problematic theme of urban and architectural development planning, between the various subjects of the areas damaged by earthquakes within the last months. All those activities are parts of the actions that Ordini degli Architetti del Centro Italia, which constituted themselves in the permanent "Epicentro" organisation with the leadership of Ordine di Rieti, are conducing in collaboration with Vasco Errani (Special Commissioner for the Reconstruction) and his Urbanism counselor Stefano Boeri.