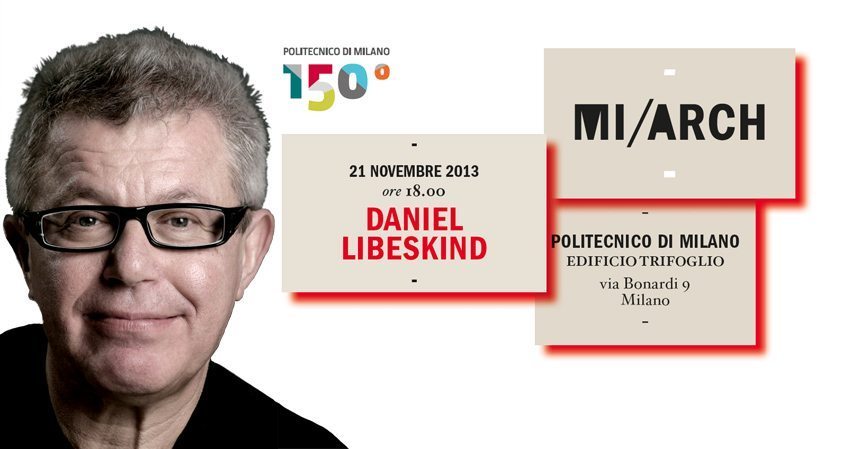 DANIEL LIBESKIND will be giving a public lecture in the occasion of Politecnico di Milano's 150th Anniversary.
The lecture is part of the cycle of public lectures Mi/arch curated by Stefano Boeri.
Born in Poland, Daniel Libeskind became a U.S. citizen in 1964. Mr.Libeskind graduated in Architecture at the Cooper Union for the Advancement of Science and Art in New York City. He then received a post graduate diploma in History and Theory of Architecture at the School of Comparative Studies at Essex University. Since establishing his practice in Berlin in 1989, Mr. Libeskind has designed major cultural, commercial and residential projects around the world. These include the master plan for the World Trade Center and the Jewish Museum Berlin. In October of 2011, his firm, Studio Daniel Libeskind, completed its redesign of what is now Germany's largest museum, the Military History Museum in Dresden. The same month Hong Kong's City University celebrated the opening of the Libeskind-designed Run Run Shaw Creative Media Centre. Other recent projects include the Grand Canal Theatre project, a major addition to Dublin's docklands and the city's cultural core; Crystals at CityCenter, a 500,000-square-foot retail complex that is the centerpiece of MGM Mirage's signature development on the Las Vegas Strip. In Milan he is now engaged in the construction of residential buildings for CityLife, the redevelopment of the historic Fiera Milano Fairgrounds  and  has overseen the drafting of the master plan,  along with Zaha Hadid and Arata Isozaki.  He has also designed  the 150 meter high Libeskind tower. Mr. Libeskind has received numerous awards including the 2001 Hiroshima Art Prize — an award given to an artist whose work promotes international understanding and peace, never before given to an architect. Mr. Libeskind's ideas have influenced a new generation of architects and those interested in the future development of cities and culture.
This lecture will be streamed.
Click here to the Politecnico di Milano site to view from 18:00hrs, Thursday 21st November, 2013