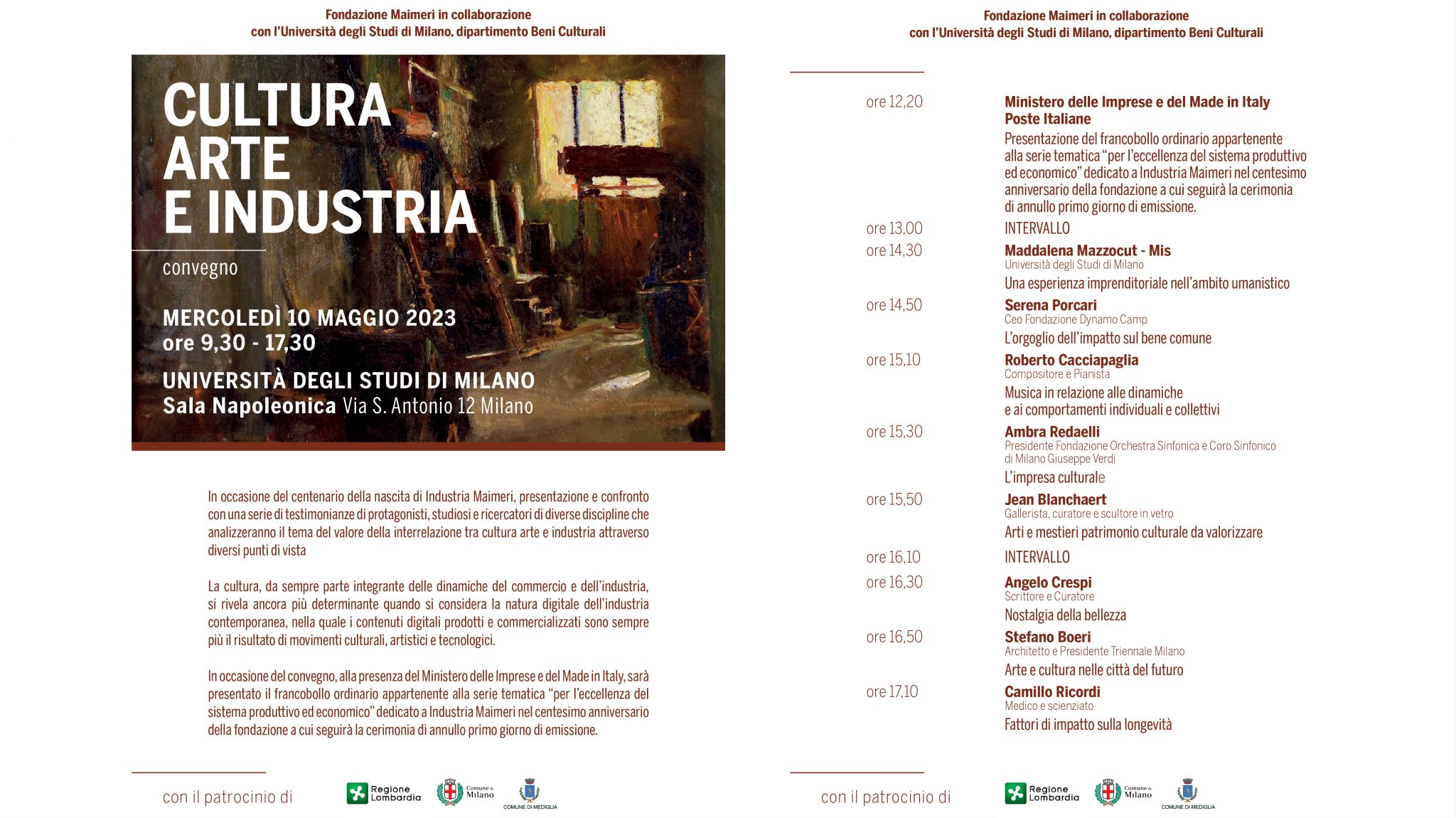 On Wednesday May 10th, the conference Cultura, Arte e Industria (Culture, Art and Industry), organised by the Maimeri Foundation in collaboration with the University of Milan (Cultural Heritage Department) on the occasion of the centenary of the birth of Industria Maimeri, is scheduled, with the participation of Stefano Boeri.
The conference lasts an entire day, from 9.30 a.m. to 5.30 p.m., and is an opportunity for presentation and discussion with a series of testimonies by protagonists, scholars and researchers from different disciplines who will analyse the theme of the value of the interrelation between culture, art and industry through different points of view. Rai writer and financial economic journalist Paolo Gila will moderate the event and introduce the Rector of the University of Milan Elio Franzini.
Speakers include, at 4.50 p.m., Stefano Boeri, with Art and Culture in the Cities of the Future, an in-depth look at the issues related to culture and art in today's society, particularly in relation to aspects of urban development.
Other speakers: Gianni Maimeri (President Maimeri Foundation and CEO Maimeri Industry), Beniamino de'Liguori (Secretary General Adriano Olivetti Foundation, Vice President Olivetti Historical Archive Association), Serena Porcari (Ceo Dynamo Camp Foundation) and Angelo Crespi (writer and curator).
On the occasion of the conference, in the presence of the Ministry of Enterprise and Made in Italy, the ordinary postage stamp belonging to the thematic series "for the excellence of the production and economic system" dedicated to Industria Maimeri on the 100th anniversary of its foundation will be presented, followed by the cancellation ceremony on the first day of issue.
To register for the event: https://www.eventbrite.it/e/biglietti-cultura-arte-e-industria-627090854627