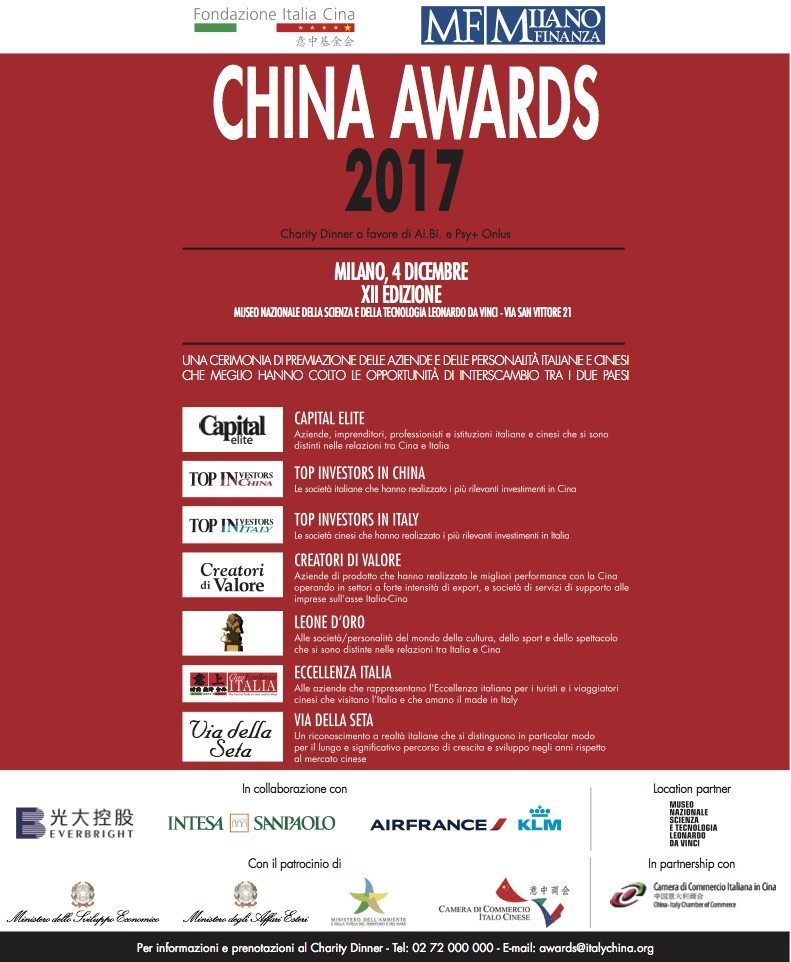 December 4th, 2017
Stefano Boeri Architetti receives the Eccellenza Italia award at the 2017 China Awards.
Today in its twelfth edition, the China Awards distinguishes the Italian and Chinese companies that have best interpreted the opportunities of the two markets.
The 2017 awards ceremony took place on Monday, December 4th in Milan, at the "Leonardo da Vinci" Museum of Science and Technology.
Forty awarded in eight categories: 26 Italian companies, 8 Chinese, 1 Italian-Chinese partnership and 5 Leoni d'Oro.
Stefano Boeri was present for the award assigned to Stefano Boeri Architetti for the representation of Italian excellence and the value of Made in Italy.
Among the prizewinners also: OFO, Pininfarina, Valentino S.P.A., Brunello Cucinelli, Buccellati, ADR, SEA, Scavolini, Pietro Coricelli.
Leone d'Oro, awarded to the personalities of the world of culture, sport and entertainment who have distinguished themselves in Italian-Chinese relations, to the jazz musician Paolo Fresu (one of the first to export Italian jazz music to China) and to Ficarra and Picone (entertainment), Cristian Brocchi and Gianluca Zambrotta (sport) and Luca Curatoli (who will be in the next Fencing World Competition in China 2018).
At the cerimony evening were present: Cesare Romiti, President of the Italy China Foundation, Diana Bracco, Executive Vice President of the Italy China Foundation, Paolo Panerai, Vice President and CEO of Class Editori. Among the guests, also the Consul General of the Republic of China, Song Xuefeng.
"Even after twelve editions, the appointment with the China Awards remains an important moment because it is a chance to share winning strategies and encourage a positive reaction towards the Chinese challenge, which is still difficult despite the great progress made – declared Cesare Romiti, President of the Italy China Foundation – Precisely for this reason we want to give visibility to the successful cases of Italian companies operating in China, as well as to those in China operating in Italy. Stories not always known by the general public ".
The awarding of the prizes was followed by a Charity Dinner in favor of Ai.Bi – Amici dei Bambini, non-governmental organization that deals with international adoptions and hosts a home for minors in Xi'An, and Psy + Onlus, an organization not lucrative for the dissemination of good practices in psychology and psychotherapy, present at Accumoli and Amatrice, to ensure professional interventions to support the people who have experienced the earthquake in Central Italy. The charity will go to Insuperabili Onlus which, together with Reset Academy, since 2012 promotes football schools for boys and girls with disabilities.
The 2017 edition was organized by the Fondazione Italia Cina thanks to the sponsorship of Air France – KLM, Everbright Innovation Investment and Intesa Sanpaolo, under the patronage of the Ministry of Economic Development, Foreign Affairs, Environment and Protection of the Territory and the Sea , of the Italian-Chinese Chamber of Commerce and in partnership with the Italian Chamber of Commerce in China.