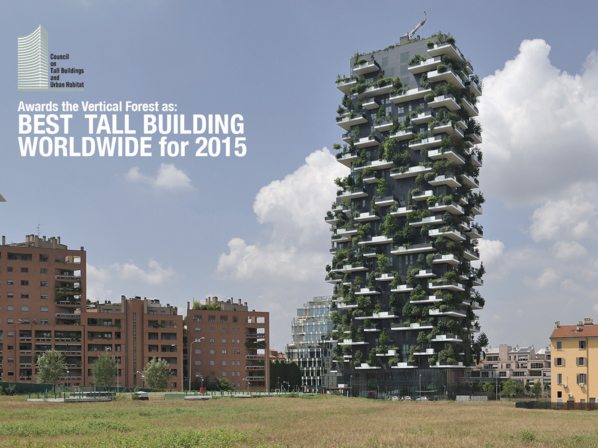 The Council on Tall Buildings and Urban Habitat promoted by the Illinois Institute of Technology of Chicago, awarded the Vertical Forest as the Best Tall Building Worldwide for 2015, choosing it over the One World Trade Center in New York, the symbol of american rebirth and freedom.
The award was given during the night in Chicago, in a ceremony at the famous Crown Hall designed by Mies Van der Rohe. The vertical forest has won this prestigious award competing with the One World Trade Center – New York, realised by the well recognised studio SOM (winner of the CTBUH award for the Americas) and former favorite, CapitaGreen – Singapore, by Toyo Ito & Associates Architects (winner of  CTBUH award for Asia – Ausatralasia), and Burj Mohammed Bin Rashid Tower – Abu Dhabi, by Norman Foster  + Parters (winner of the CTBUH award for the middle east and Africa).
Stefano Boeri: "After winning the International High-rise Award in Frankfurt in the 2014, the world award of the CTBUH in Chicago is the confirmation that the Vertical Forest has become an international icon of contemporary architecture. I am happy for milano, a city that today finds in the Vertical Forest, a symbol of its reinvention and for Italian culture and architecture, these confirm a great moment of innovation. The award to the Vertical Forest it an award to courage, and to the collective effort of a group of creative, technicians, experts, entrepreneurs, construction workers, that have built in Milano a pioneering architecture unique to the world. The victory in Chicago, the city that saw the first skyscrapers rise, and receiving the award inside of the famous Crown Hall done in 1956 by Mies van der Rohe, makes this award even more significant for european and italian architecture.