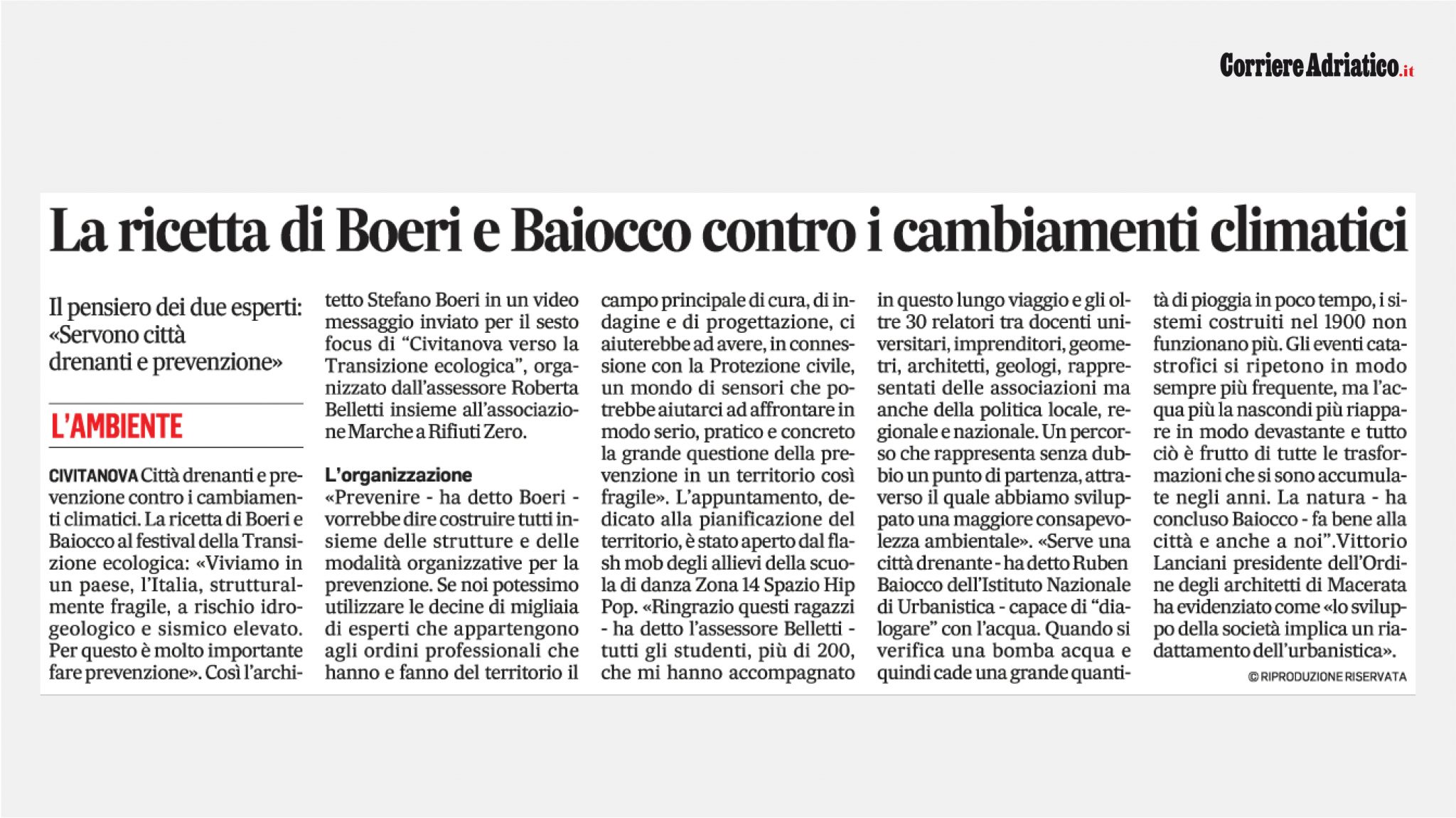 The Corriere Adriatico dedicated an article to Stefano Boeri's speech during the sixth focus of 'Civitanova towards Ecological Transition', organised by councillor Roberta Belletti together with the Marche a Rifiuti Zero association.
Ruben Baiocco from the National Institute of Urban Planning and Roberta Belletti herself also spoke at the event, emphasising the importance of prevention against climate change in cities, especially after the consequences of the heavy floods in Emilia Romagna in May 2023 – with, for example, urban plans and visions that aim to create draining and context-sensitive cities.
"We live in a country, Italy, which is structurally fragile, with a high hydrogeological and seismic risk. That is why it is very important to do prevention. Prevention would mean building structures and organisational methods for prevention all together. If we could make use of the tens of thousands of experts belonging to the professional orders who have and make the territory their main field of care, investigation and design, it would help us to have, in connection with the Civil Protection, a world of sensors that could help us to address in a serious, practical and concrete way the great issue of prevention in such a fragile territory,' concludes Stefano Boeri.
Per leggere l'articolo completo: https://www.stefanoboeriarchitetti.net/wp-content/uploads/2023/05/79-4D-6C-95-6E-A4-24-80-31-A5-BE-A3-97-60-E4-77-5A-EB-7B-8D-E1-2C-9D-EE-28-D8-D0-9C-46-56-96-E11.png
The news was also reported by Il Resto del Carlino: https://www.stefanoboeriarchitetti.net/wp-content/uploads/2023/05/09-59-B6-F3-2C-80-D5-BE-F2-2D-08-C5-93-86-32-8B-34-B3-11-26-33-6C-07-BD-C2-4D-85-33-F5-CC-68-AD1.png